Have you ever gotten a professional cake and wondered how they got the edges so perfectly?
Well it's not the easiest thing and it requires a lot of practice.  I was having a bit of problems getting my buttercream nice and smooth and square and ready for fondant, then a friend of mine referred me to this video.
It is a bit long (15 minutes) and is done with ganache as opposed to buttercream, but I assume that once you have well-chilled buttercream, you can use the metal T-square (L-square?) to square your cake in the same manner.
Otherwise, ganache is a spectacular finish for pre-fondant – as you can see in the video.
I hope you enjoy…

********************************************************************************** This was a post was done as a part of
"Foodie February" over at Talking Momcents
. Go check it out – a lot of amazing recipes and food tips from some of your favorite bloggers, all linked up in one place.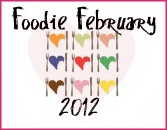 Join us! We'd love to hear about your favorite recipes and spectacular food tips!