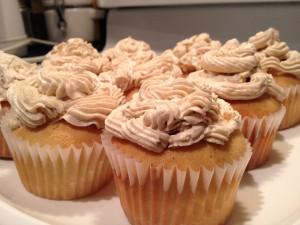 This is only one method of filling cupcakes – there are a few other methods that include partially cooking cupcakes and putting in the filling and covering with more batter and baking…but to me, that takes way too much time and patience.
And patience is a virtue, I promise you, I do not have on my best day…and this way is easy, quick and pain free…well…when you do it right.
Anyways, I had some left over batter from a vanilla cake I was making, so I decided to make cupcakes.
Then I decided to experiment, and filled them with apple butter and piped the tops with apple cinnamon buttercream.
(I  had some left over apple compote that I wanted to get rid of – yes, this is a "leftover" post…come to think of it, I have a lot of these … apparently)
So basically, what you need for this method of filling a cupcake is a set of warm cupcakes, a smooth filling (any flavor – I used Wellesley apple butter), a piping bag with a long, pointed piping tip with a small opening (or medium I think will work).  Once it's long and pointy so that you create as small a hole in the crust of the cake as possible it will work well.
Let your cupcakes cool slightly so that they are still significantly warm, but you are able to handle them.
Fill piping bag with your filling (apple butter, lemon curd, chocolate ganache etc. etc. etc.), and stick the long, pointed tip into the top of the cupcake until it is about halfway down into the cupcake.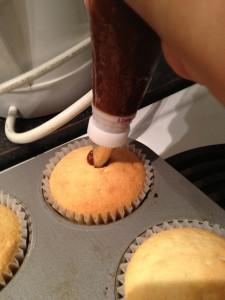 you can actually go fairly deep into a cupcake
Squeeze filling into the cupcake until it starts to come up around your tip.  Remove tip and do the same for all the rest of your cupcakes.
You should now have something that looks similar to this.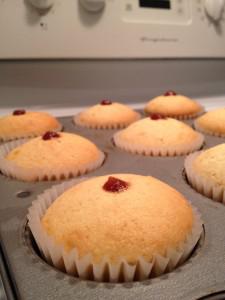 filled cupcakes
If you notice, the hole that you created and the filling is visible at the top of the cupcake, so this means that you need to ice the top of the cupcakes to hide the hole you just created just to make it look like your filling "magically" got into your cupcake perfectly.
I decided apple cinnamon buttercream.  I chose the biggest star tip that I have because the buttercream I made had apple butter and bits of apple in it from the apple compote.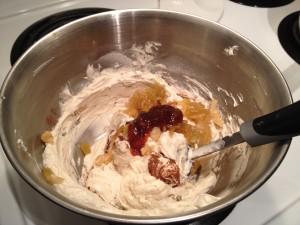 before I mixed in the apple
Bad idea.  My tip was not big enough and it kept getting stuck in it, SO, do as I say and not as I do – if you're going to do something with chunks in it, make sure your tip is large enough.
Otherwise, enjoy cleaning up your wall, stove, microwave or wherever your buttercream decides to spray too when the chunk lets up (like I did – yes, all of those got buttercreamed instead of my cupcake).
I kept trucking and managed to make the cupcakes look partially normal….well most of them anyways…some of them came out like this….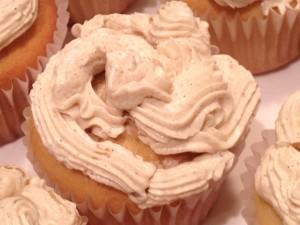 My neigbour and my Aunt loved the flavor though – so maybe you can try it one day (without apple chunks) – apple butter cupcakes with apple cinnamon buttercream.
I'm gonna try it again gluten free for myself one of these good days!
********************************************************************************** This was a post was done as a part of
"Foodie February" over at Talking Momcents
. Go check it out – a lot of amazing recipes and food tips from some of your favorite bloggers, all linked up in one place.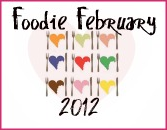 Join us! We'd love to hear about your favorite recipes and spectacular food tips!