Vegetables taste better as chips, and crispy sweet potato chips are definitely a winner in our house. Easy to make, these chips are a great side for pretty much everything.
Total Time Investment: 30 Minutes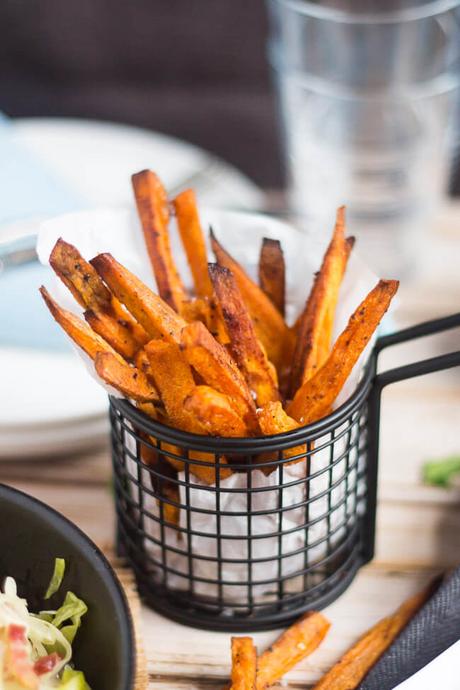 I'll let you in on a secret. Vegetables taste better as chips. Offer The Princess a mound of mashed sweet potato and she will gag. Disguise it as soup - same response. Cut it into chips and roast it. Not only will she eat the large pile put in front of her, but will demand more, hovering to pinch the extra crisp ones as they come out of the oven.
I had this little revelation a few years ago now, and since then these crispy sweet potato chips have appeared on the menu almost weekly. They are so easy to make, and just cook away in the oven whilst I get on with the rest of the meal. And best of all I know there will be no complaints from the peanut gallery.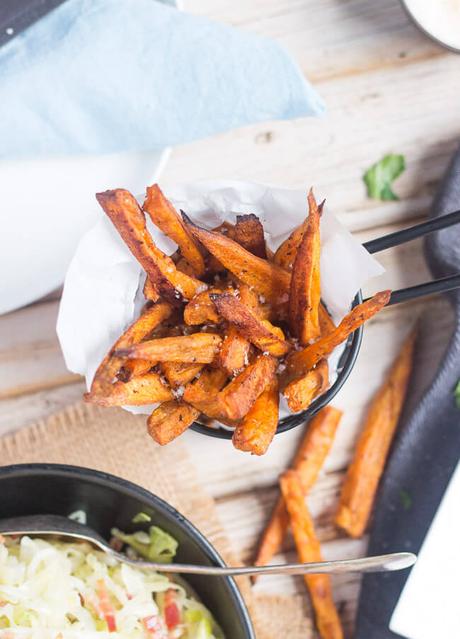 The Best Variety For Crispy Sweet Potato Chips
Sweet potatoes come in a range of colours, from white to deep orange, with purple thrown in for good measure, and all produce great chips when cooked correctly. The white and purple sweet potatoes are slightly drier, and produce very crispy chips. Personally though, I prefer to use the orange varieties. These make a chip that is crispy on the outside, and soft and sweet on the inside. Experiment with them all and see which one you prefer.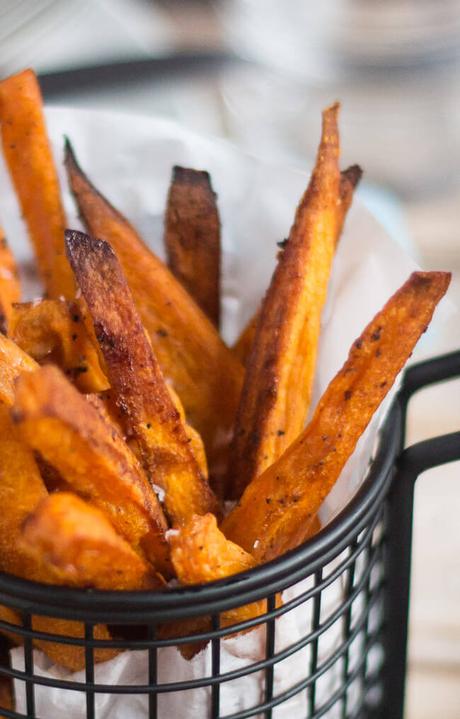 How To Make Truly Crispy Sweet Potato Chips
There are few rules to follow that will ensure you end up with truly crispy sweet potato chips.
Cut the chips as evenly as possible. This ensures the chips cook evenly. Thanks to the shape of a sweet potato, you will end up with some small irregular shaped pieces from the edges. Don't worry, these ones just cook a little faster and will be fought over by your family members (or maybe that is just at my place). I aim to cut my chips about 6mm (1/4″) thick, and my biggest tip here is to use a really sharp knife. It will make your life so much easier.
Coat all the chips in oil. Any chips not covered in oil will dry out rather than crisp. If I am making a small amount of chips, I toss them in a bowl with a little oil and seasoning to make sure everything is evenly covered. For larger amounts, I just drizzle oil over the chips on the tray and toss them evenly before spreading the chips out.
Spread the chips out on the baking trays. This is the only dish I make where I go the extra mile and evenly space the chips across the tray. I make sure that none are touching and that there is room between each chips for air to circulate. This little detail is the difference between a soggy chip and a crisp chip.
Crank up the heat. Those few extra degrees in the oven make a huge difference to your chip. Set your oven to 200C (180 fan forced) and make sure it has reached temperature before sliding in your loaded baking trays. A hot, fast cook will give a lovely crisp exterior to the chips.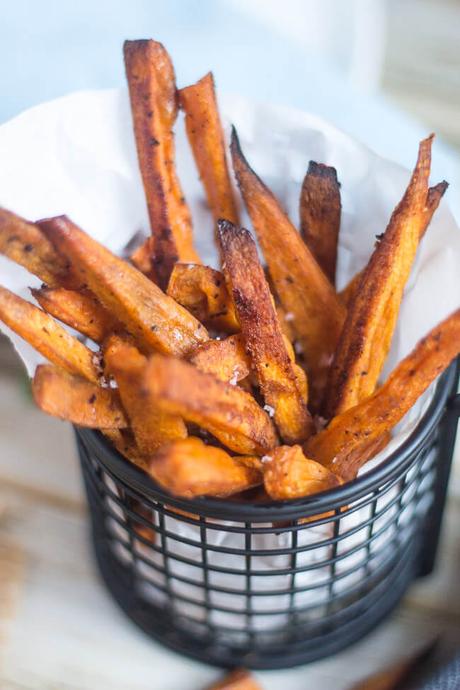 What to Serve with Crispy Sweet Potato Chips
In a word, everything! I regularly serve these chips alongside my weeknight roast chicken or baked salmon fillets. They are great snuggled alongside pie, brilliant with burgers, and I often serve them to The Princess on their own if she needs a substantial snack before an activity. I challenge you to find something they are not delicious with.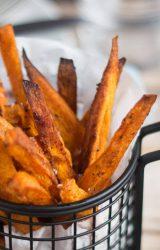 Crispy Sweet Potato Chips
--------------
The Recipe Redux theme for this month is simple sheet pan dinners. And whilst my chips don't constitute a whole meal, they are cooked on a sheet pan, and they do make my busy weeknights just that little bit more manageable. Make sure you check out all the delicious sheet pan meals in this months round-up for some great ideas for easy and healthy weeknight meals.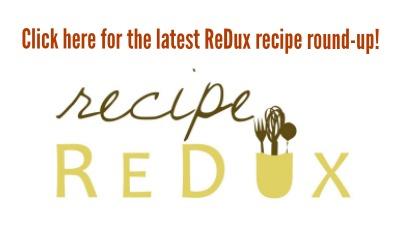 * This post was originally published in July 2013. It has been substantially updated from the original.