Now you can generate extra income from your website by placing Google survey. Users are being asked to answer four questions for their satisfaction. These surveys are enabled till completion of 500 user responses.
To activate survey with your current AdSense publisher id follow this link: Click here to activate Google survey for publishers
The survey restarts after 30 days period. But kindly note, this surveys are currently not available for mobile sites.
Scope of Income: You can earn from $0.05 to $5.00 per 500 responses. And I guess this is not a bad income if you are running a blog or any kinda websites especially if you have any e-store or consumer support sites.
You can also create custom survey at free of cost. There are four categories for this:

General Population
Your Website
Android Smart phone users
Audience panel
This will lead you to next level where you have to choose the format for your survey from the available templates.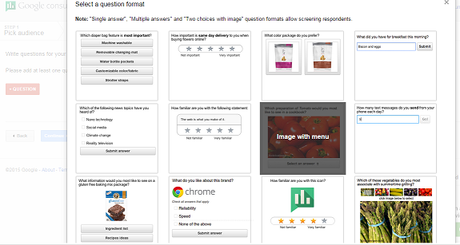 Next level is where you set up your questionnaire. You can also add image to your survey as per the template requirement. Here is the picture below for your convinience: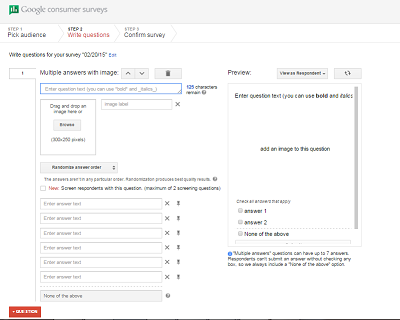 Voila! now click continue and preview survey then publish.
You can get more information from here