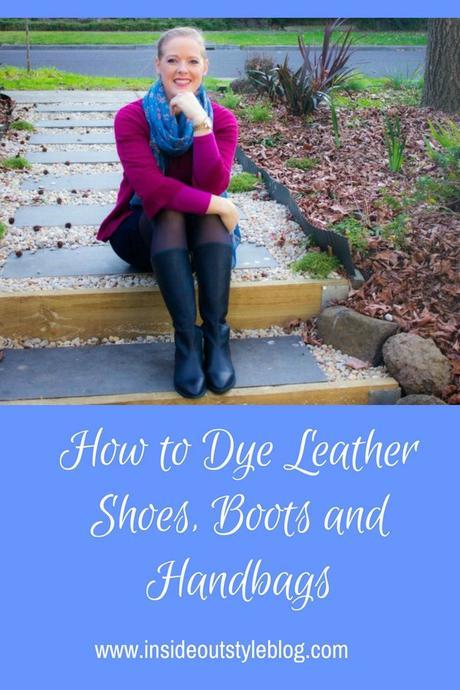 I love my navy leather boots, in fact I've loved them to death (they have gotten old and tatty looking), so I hunted high and low for a replacement pair of navy leather boots, to find none that fit my requirements.
Instead, I found a pair of lovely nude leather boots that I decided to dye navy.
You can use this process on any leather shoes, boots or handbags (even leather belts) if you want to either rejuvenate or change the colour.
Dye is different from leather paint (which sits on the surface), firstly, you can only dye darker than the original colour. Secondly the dye penetrates the leather so you can't change your mind and dye a different or lighter colour afterwards. But unlike leather paint, it won't ever crack over time.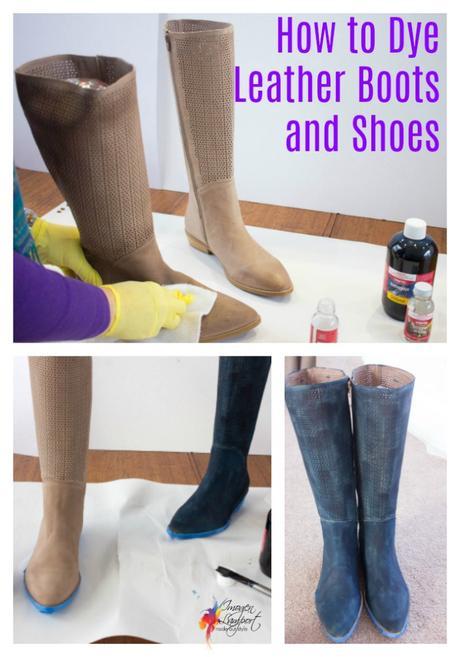 The Products I Used
Step 1 - Strip
You need to strip off any coating on the leather and as much colour as possible. Using a soft cloth wipe stripper over every area of your boot or shoe (and do this a few times). I used one 50ml bottle for each boot. Spray a little water on when you think you're done. If water beads on the surface of the leather then there is still a coating that needs to be removed. Make sure you're wearing the rubber gloves as this stuff is not good for skin.
Step 2 - Dye
The dye really, really stinks! Do this outside (not inside) as it's totally noxious.
I used a paint brush and painted on the dye. I ended up doing 3 coats. The pic above is after 1 coat of dye and you can see it's quite patchy.
Because they are knee high boots, I was told that two small 50ml bottles was what I'd need (though it was cheaper to buy 500ml than 2 x 50ml bottles so I did that). For a pair of shoes, 50ml would probably be all you need.
The zip dyed pretty well! I used a permanent marker to colour in the zipper pull tab.
Step 3 - Condition
Once you've reached your desired intensity, then let the dye dry. Once dried (I left it overnight), apply a waxy leather conditioner to seal and polish the leather so it doesn't get stained with water.

Other product options to dye leather if outside Australia
Angelus Leather Dye
Preparer and deglazer (this is the Angelus stripper)
Now if you want to change a boring black pair of shoes into another colour - then you'll need to use leather paint instead.
Shoe Play - How to Change the Colour of Your Shoes