Easter is rapidly approaching and many people around the world are getting ready for the holiday. Easter can be a tricky holiday to dress for: you need to be dressy and you need to take into consideration the season and the caprices of the weather which are quite common in the spring.
On holidays, it's usually common to reflect the holiday through your looks, without being too tautological. Easter is all about life, light and eternity and it goes very well with the spring, which is all about rebirth and regeneration.
These are the things that you can reflect through your outfits quite easily in several ways.
Colors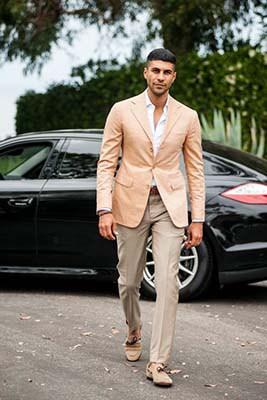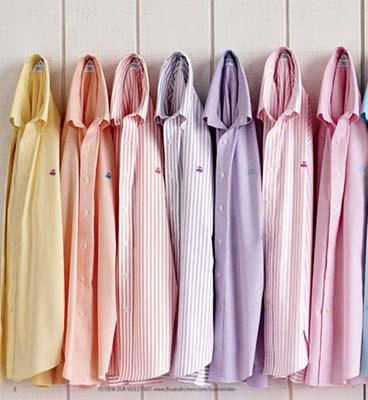 When it comes to colors, Easter is strongly associated with pastel, or chalky colors, especially in the West. These colors are very beautiful and in tone with the spirit of the day. They are approachable and calm and bring joy to the wearer and to the people he meets.
If you are not big on chalky colors, you can opt for deep colors. In spring, colors such as purple, orange and teal go very well, especially if they are in a lighter shade. While red is also a bright and energetic color, it can be perceived as rather aggressive, so it's not recommended to be worn on this particular holiday. Also, it is quite reminiscent of an Easter egg, which is too tautological in our opinion.
Patterns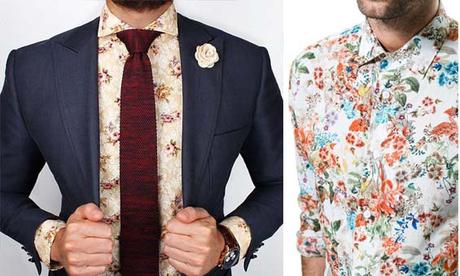 If you have hard time choosing one or two colors to wear, why don't you go for many colors and wear a print or a pattern? We especially enjoy floral patterns in the spring. Think of the many options you have: a print or pattern can be composed of colors that are similar to one another, they can be composed of highly contrasting colors or they can feature a single color in more shades. They can even have only one bold color and one (or more) neutrals, which will tone down their impact.
And, speaking of neutrals, if you want to make a statement with your print or pattern, but don't want to be too bold with it, you can always pair it with a strong, solid neutral. In fashion, neutrals are colors that go with any other color, print or pattern. Beige, brown, gray, black, white, khaki, tan, ivory, dark blue, all fall in the neutrals category. Think for example of wearing a floral shirt with a light khaki blazer and with an ivory pair of pants. This way, you will have the dynamism of the floral shirt, but it will be toned down by the simplicity of the neutrals.
Pieces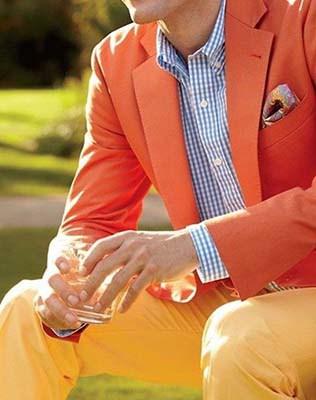 Now that you have the concepts in sight, it's time to focus on the concrete pieces you will be wearing. In spring, we usually recommend going for a layered outfit (think jacket, vest, shirt), as it can adapt easily to the weather and it is very interesting visually.
For Easter, we recommend dressing up in a type of smart casual outfit, but mixing a sports jacket with a dress shirt and a casual, yet dressy pair of pants. The pants can be anything from dark wash jeans to khakis and chinos, as long as they fit you well and look good on your legs.
When it comes to shoes, there are many ways in which you can go. Slip-on shoes are a beautiful, simple way to go and go with most types of outfits. So do wingtip shoes, if you want to give out a dressier vibe. Brogues and oxfords are also great options, but we would stay away from running shoes.
In terms of accessories, it all really depends on the setting for which you dress up. If you are celebrating Easter at a garden party, you might need a cool pair of sunglasses and even a hat, and if you are having a fancy Easter dinner, a nice pocket square can style up your jacket in no time. We would skip the tie, to be honest.
A watch or a nice, subtle chain are accessories that go in any context and with most types of outfits and will add distinction and maturity to your look.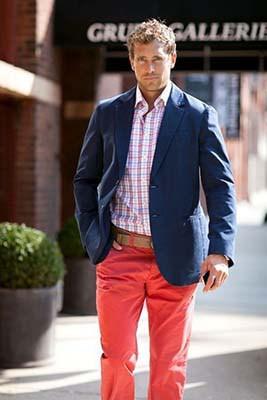 As a special note, you can always wear one or two items that are not very common, such as colorful socks, if you want to impress people and make a colorful sartorial statement.
Easter is a wonderful occasion to create outfits you probably wouldn't normally wear and to take a fashion risk. You might just find something you'll enjoy wearing more of.
And, as in the case of any holiday, you must first find the spirit of the holiday within yourself, as otherwise, it's going to be quite hard to find it in your wardrobe.
On this note, we wish you a Happy Easter and hope you'll have a great Easter Sunday!
Fraquoh and Franchomme
Further reading:
Attire Club Mood Board: Prints and patterns
Men's mid-spring outfits: A bright Easter
4 men's spring essentials
What are the different types of prints on clothes 
The complete guide to mixing patterns and prints
How to wear a floral shirt
The guide to wearing paisley
A guide to coordinating the colors of your clothes (+examples)
The professional way to choose the colors of your clothes
Add a pop of color to your shirts: Accent fabrics
What are the differences between loafers and moccasins and how to wear them?
A look at spring-summer accessories for the modern man
Update your wardrobe for the spring!
P.S. We want to hear from you! How do you dress on Easter Sunday? What colors do you wear? How do you celebrate Easter? Share your feedback, questions or thoughts in the comments below! For more articles on style, fashion tips and cultural insights, you can subscribe to Attire Club via e-mail or follow us on Facebook, Twitter or Instagram!