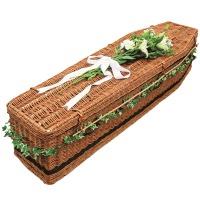 HERE at the Eco Experts we often give advice on how to live sustainably, but we thought we'd let you extend your goodwill to the afterlife.
The first fairly traded coffins, handmade from bamboo and willow by workers in Bangladesh are now available from the Co-op's funeral service.
Not only are the coffins made from biodegradable products, they are also made under conditions which are fair and regulated. About 70 people are employed to make them in the Nilphamari district, close to where the raw bamboo is grown.
The move comes amid increasing demand for alternative materials for coffins, such as bamboo and willow, as interest in environmental funerals continues to rise.
The coffins have been endorsed by fair trade organisation Traidcraft, which said the initiative provided hope for people in a region that has been blighted by extreme poverty.
Co-operative Funeralcare's head of marketing, Lorinda Robinson, said the launch of the fairly traded coffins was a natural, if unusual, progression of the Co-operative's support for fair trade.
She said: "The growing consumer choice of ethical products and rise of personalisation in funerals is driving interest in such products. The coffins are of the highest quality and the fairly traded coffin endorsement will guarantee that the producers in Bangladesh directly benefit, as Traidcraft independently verifies that they work in decent working conditions and receive a fair price."
Other popular choices for ethical coffins include woolen coffins from UK sheep.
A spokesperson from the EcoExperts said: "It's often something that we don't think about, but planning an environmentally friendly funeral is really important. It is fantastic that the Co-op are now offering fairly traded coffins. For people who care about the environment and where their goods are coming from these are perfect."