At your own convenience, you can easily create a mail account or delete Gmail account. Gmail is the service provided by Google to send and receive the emails. Here in this post, we will let you know on How to delete Gmail account
There might be many reasons to delete Gmail account like creating a new Gmail account, moving to some other network or else privacy issues. Whatever we will guide you through How to delete Gmail account successfully within a few steps
Gmail account Tips and tricks: Protect your Gmail account and secure your Gmails and its data. Check on How To Make Your Gmail Safe From Hackers
Steps to delete Gmail account
1. Log-in to your Gmail account
2. Now go through the Account settings
3. Select Data & Personalisation option. Scroll down and to find Download, delete or make a plan for your data section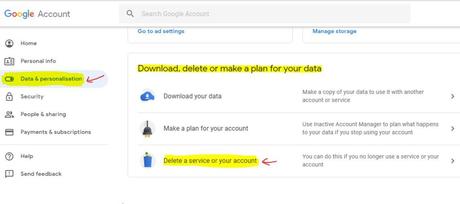 4. Click on Delete a service or Your account option
5. Select Delete a service option 
6. Enter the password of your Gmail account to confirm the identity
7. Now, choose the service you wish to delete, choose Gmail from the list
8. Enter your new Email address to further login into the services like google play, Docs or Calendar and click Send Verification Email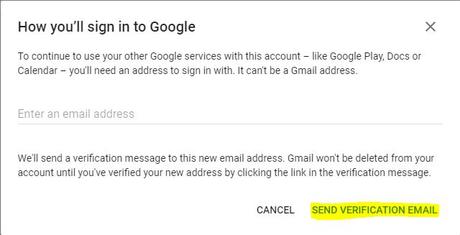 9. Open the email from Google to permit Gmail deletion confirmation and follow the deletion link
10. Login into Gmail account that you are about to delete and confirm Yes, I want to delete [email protected]
11. Select Delete Gmail and Done
What happens if I delete my gmail account permanently
Once you delete your gmail account, you nolonger receive the emails from senders and they will see a delivery failure message if they try contating you.
Interesting topic on Gmail account: In the previous post, we have published a post on how to protect your Gmail account from hackers even if someone steals your password it helps you in securing gmail account
The messages in the Gmail account will be permanently deleted and you no longer have access to them (Consider downloading your data before deleting the Gmail account through Google Takeout).
We hope that the post on how to delete Gmail account has helped you in deleting Gmail account sucessfully. If you have any questions regarding the process you can write to us through the comments section and we will reach you out with the most suitable answers.