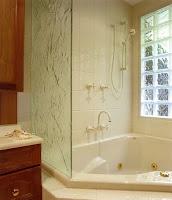 Have you ever thought about how you could make the interior spaces of your home more environmentally friendly as well as more comfortable and enticing to spend time in? Making eco changes to your home can lower your power bills as well as your household's impact on the environment.
You can begin the eco renewal process by making small adjustments to the lighting and water management of your Melbourne bathroom, or create an entirely new design centred around connecting your space with the needs of the earth.
The first step to creating a more eco friendly space for your home is to develop ways in which you can moderate and conserve the amount of water and energy you consume in the space. The shower and bath are both prime targets for reducing water consumption in any bathrooms in Melbourne.
Many people choose to use showers over baths to avoid using extreme amounts of water every day, however it is important to make sure that the type of shower system and shower head you install in your space is capable of actively saving water to make sure that your design is really environmentally friendly.
You can also make your Melbourne bathroom more eco friendly by using natural, sustainably sourced materials in your design. These can include natural timber and stone, as well as non-VOC paints and other chemical free finishes and accessories. By using these sustainable materials you can easily create a space that is not only beneficial to the environment but also safe and healthy for your family.