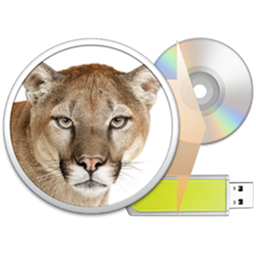 Step 1
: Head on over to the Lion DiskMaker site and download the most recent version of the utility (currently version 2.0rc2). Also, download OS X Mountain Lion from Mac App Store.
Step 2
: Open up the compressed file from the download location and run the executable file contained within. This will invoke an instance of the Lion DiskMaker utility.
Step 3
: When the program window loads, it will provide you with a small amount of information as well as three buttons containing user options. Select the far right button which is labeled
'Mountain Lion (10.8)'.
Note: In case the utility is unable to find your Mountain Lion image. Go to the Applications folder and find the copy of Mountain Lion you just downloaded.
Right click on the downloaded file and select "Show Package Contents".
Go to "Contents" and jump inside the "SharedSupport" folder and you'll find a file titled "InstallESD.dmg".
Step 4
: Lion DiskMaker will now present you with option to either "Burn a DVD", or "Create a boot disk" using Flash drive or SD Card.
Step 5
: Sit back and enjoy the magic that comes from running a fully automated tool that has the intelligence to make itself look like black magic.