We have a new trend category on MiaFleur that we are really excited about – The New Boho. What's 'New Boho' you might ask? Well it's Bohemian but more refined and less cluttered, but with lots of vitality and warmth and it's easier to add elements of it to your own style. Think emerald green – lots of it in soft velvets and lush house plants with splashes of colour and pattern then chuck in some black to tone it down, add natural materials like rattan and wicker, natural flooring with rugs and lots of texture and interest with fringing and crochet and you get a harmonious and welcoming vibe redolent of the 70's but with a modernist twist.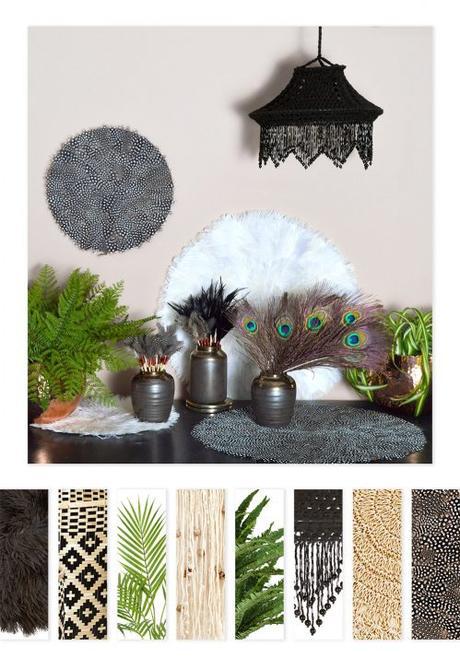 A mood board of feathers, crochet, woven wicker and lots and lots of lush greenery in shades of green and black to give you the look. Incorporate as much or as little as takes your fancy to give your interior the new boho vibe.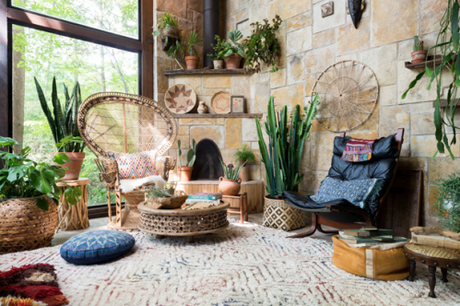 Image Credit: The Jungalow Blog
If you are a big fan of bohemian interiors then take a look at The Jungalow Blog for lots of ideas and inspiration for a truly bohemian outlook which glows with energy. The images make you want to inhabit this world of the exotic and dream of sun drenched climes.
We've put together a 'get the look' for some inspiration and ideas of what to buy and where to get you started.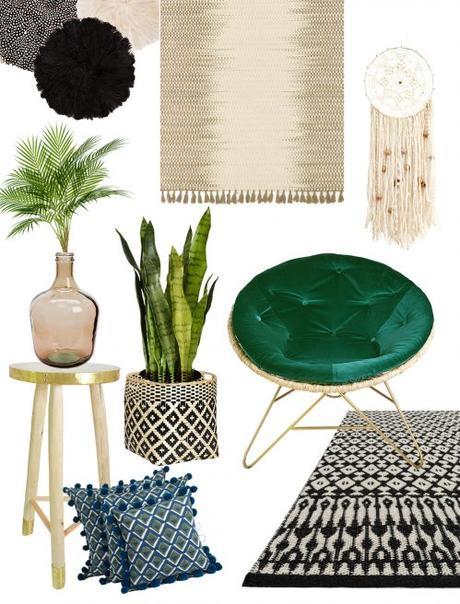 Get the Look:  feather wall hangings, chantilly rug, dream catcher, green velvet chair, monochrome bamboo baskets, artificial mother in law's tongue house plant, glass bottle vase, artificial areca palm, rustic wooden bar stool, geo pom pom cushions, emmie kay rug.
Jacqui x
Never miss a post: follow us on Bloglovin'!
Photography: Amelia Brooks/ Styling: Jacqui & Amelia Brooks