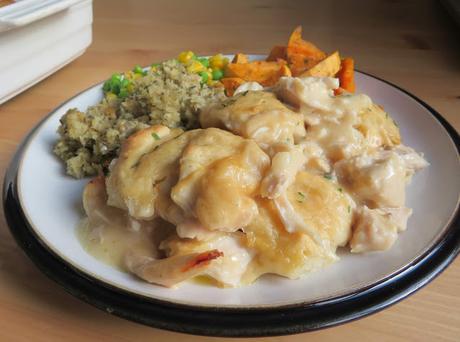 No doubt about it, we eat a lot of chicken in this house. We love chicken and in all honesty, you cannot find a meat protein that is more adaptable than chicken.  It is one of those meats that quite easily goes with a multitude of flavors and cuisines. 
More often than not I will cook chicken pieces.  Either the breasts, or quarters, or thighs.  We are also very fond of chicken casseroles.  For those I often need either leftover roast chicken to use, or I will specifically cook and shred chicken breasts to use.  
I often buy whole packs of chicken breasts when they are on offer at the shops and poach or cook them, packing the meat into two cup containers, and freezing them. That way I always have a quantity of cooked chicken ready to use in a tasty dish at any given time.
One of the easiest ways to cook this chicken is in the microwave. If you know how to cook chicken in the microwave you will never be short of cooked shredded chicken. It is very simple to do and very quick. The chicken always comes out moist and delicious. Perfect for shredding or dicing.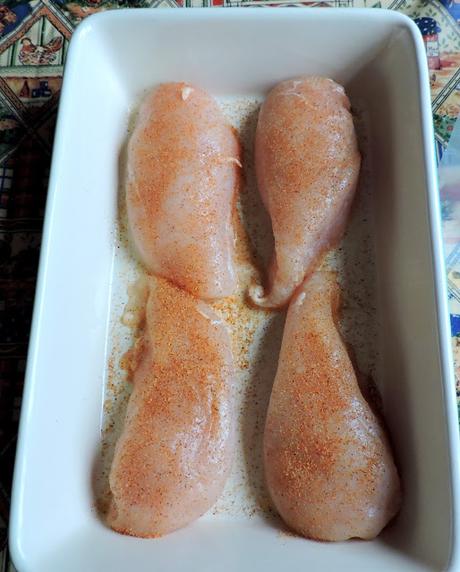 When I worked at the Manor, I was always poaching chicken to be used in recipes, sandwiches, etc. My boss used to get me to poach them in a mixture of vermouth, stock and peppercorns.  And yes, in the microwave.  This method is very similar, but does not use vermouth.
You can poach chicken in the crock pot, instant pot, or in a saucepan on top of the stove as well. It does always yield moist and easy to shred chicken. 
Cooking it in the microwave, however, is simply the
best
and quickest way of doing it. 
I usually cook four breasts at a time.  Why breasts?  Because they lend themselves beautifully to this manner of cooking and they have the mildest flavor which makes them perfect for dishes and recipes in which you need to use cooked chicken.
You will need a microwave safe dish which is large enough to hold your chicken breasts in one layer, with a bit of space available around each of them.  I simply season my chicken all over with either just salt and pepper, or  any other seasoning pertinent to the type of casserole you are wanting to make.
For instance if you are looking for a Mexican style casserole, then I would use Tex Mex seasoning, etc. If you are wanting to use them in a regular casserole just use ordinary sea salt and pepper, or seasoning salt.
Place them into the casserole dish with the widest side facing the outside of the dish.  Microwaves cook from the outer edges in towards the center of the dish.  The outer edges will begin to cook first.  That is why it is important to put the wide edge at the outside so that the narrower ends don't become over-cooked and dry. (See above photograph for perfect placement.)
You will need to add water, stock, or some other liquid in a quantity that will come to a level approximately 1/3 of the way up the breast.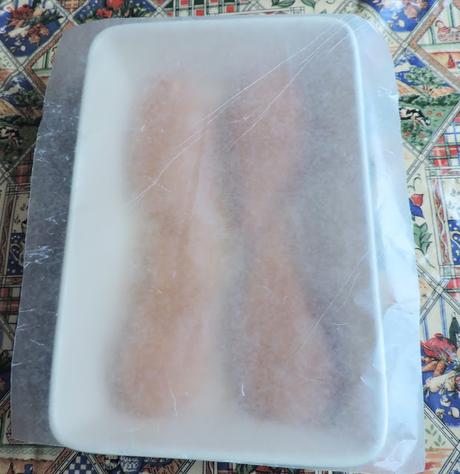 Once you have done that cover the dish with a single sheet of waxed paper or parchment paper.  You can also use a sheet of plastic wrap.
The goal here is to create a steam bath.  As the liquid in the casserole begins to boil, it creates steam which in turn helps to cook and poach the chicken perfectly, always with a tender and moist finish. 
Cook the in the microwave on high for four to five minutes per piece of chicken.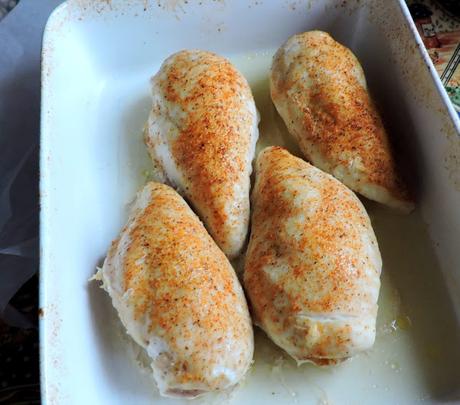 The exact timings will depend on the size and thickness of your chicken and how many breasts you have in the casserole dish.  Do note however, if you are using plastic cling film/wrap you should leave a corner of the casserole dish open to vent it.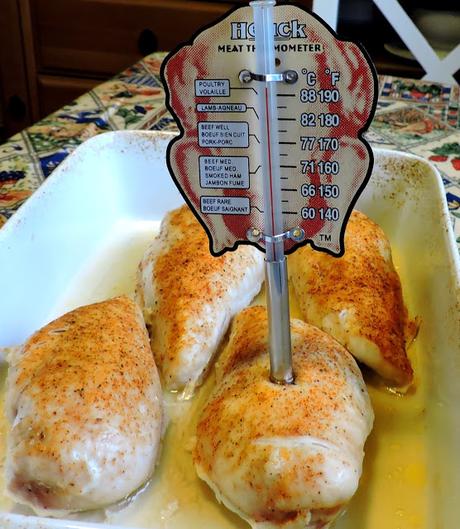 They come out perfectly cooked and ready for other uses. I like to check the internal temperature just to make sure they are cooked through properly with a meat thermometer. It is best to check this by using a meat thermometer.  The proper temperature should be 165*F/74*C.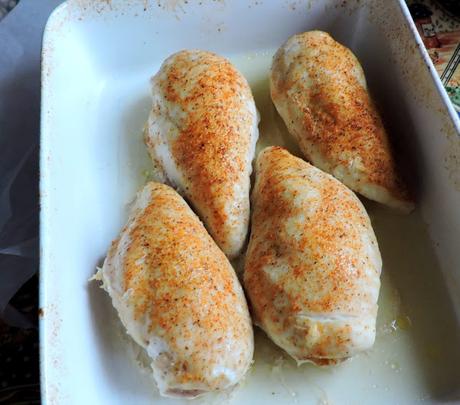 Microwave Poached Chicken Breasts
Yield:
variable
Author:
Marie Rayner
Two tasty ways to poach chicken breasts in the microwave. Both work very well, giving you delicious and succulent cooked chicken ready to use in a multitude of chicken casseroles, etc.
Ingredients
Method One:
4 boneless, skinless chicken breasts
2 T chicken broth, white wine, citrus juice or water
Method Two:
60ml orange juice (1/4 cup)
2 TBS butter
1/2 tsp pepper
1/2 tsp salt
4 boneless, skinless chicken breasts
Instructions
For method one: Trim the chicken breasts; place in a microwave-safe 9-inch glass pie plate, and arrange them with the thicker portions toward the outside of the dish. Drizzle with the chicken broth. Cover with microwave-safe plastic wrap. Make a vent for the dish by turning a small section of plastic wrap back on itself, leaving a slender vent on one side of the plate. Microwave on high for 6 to 8 minutes, turning after 4 minutes. Let stand covered until ready to serve.
For method two: In an 8 x 8 inch microwave safe baking dish, mix orange juice, butter, pepper and salt. Microwave on high for 2 minutes. Place chicken in baking dish. Spoon liquid mixture over chicken and cover dish with wax paper. Microwave on high for 12 minutes. Let stand 5 minutes before serving.
You can of course use other seasonings and liquids. The secret is to have the tight cover so the juices do not evaporate in cooking.
Did you make this recipe?
Tag @marierayner5530 on instagram and hashtag it #marierayner5530Created using
The Recipes Generator
Now that you have some delicious cooked chicken you may be wondering how you can use it. You can of course shred or dice it, pack it into airtight containers and freeze it. In any case here are some of my favorite suggestions on how to use some of it. All are delicious!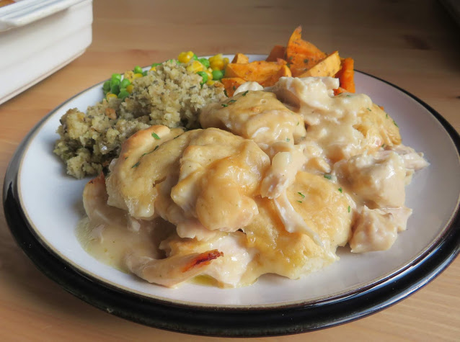 CHICKEN AND DUMPLING CASSEROLE
A fabulously tasty casserole that is quick and easy to make. Shredded chicken gets drizzled with a dumpling batter, with a liquid gravy poured over top. Like magic it makes a saucy chicken in gravy topped with dumplings. Serve with your favorite sides for midweek meal. Sized for two people, but you can easily double this recipe. (Click recipe title to go to the recipe)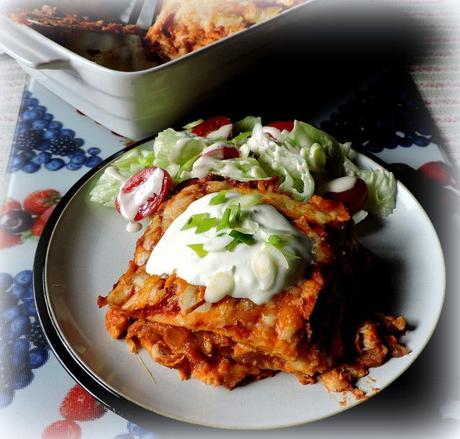 CHICKEN ENCHILADA BAKE 
This cheesy layered chicken enchilada casserole makes for a really quick, easy and delicious dinner time entrée. All you need is chicken, beans, sauce, cheese, and tortillas. Serve it with your favorite enchilada toppings for a real family pleaser! Click on recipe title to take you to the recipe.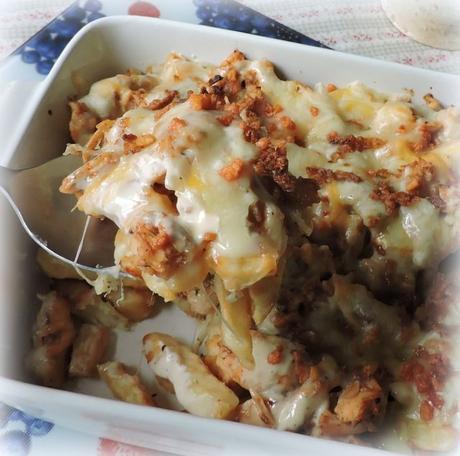 HUNTER'S CHICKEN AND CHIPS 
There are basically only four steps to follow for this fabulously tasty casserole.  Making it is as simple as throwing some frozen oven chips into the oven to bake and then topping with shredded cooked chicken. You dress the shredded cooked chicken with barbeque sauce. Then you layer them in a casserole dish with some cheese and salad dressing and then top with some bacon bits and crispy onions. Click title to go to this easy and delicious recipe.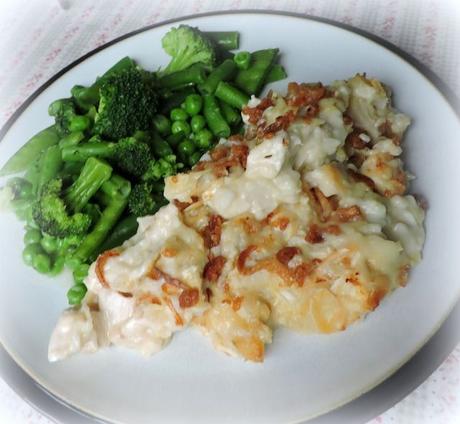 CRUNCHY CHICKEN CASSEROLE 
Simple and satisfyingly delicious. Creamy and rich with lots of crunch. All you need on the side is a cooked vegetable and perhaps some crusty bread.  Click on recipe title to go to the recipe.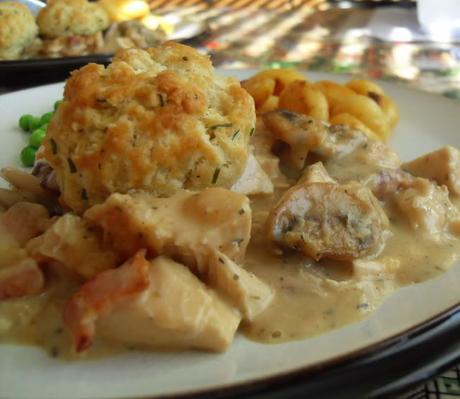 CHICKEN AND MUSHROOM CASSEROLE WITH CRUSTY DUMPLINGS
Chunks of tender chicken, salty bacon, onions and browned mushrooms in a tasty sauce, topped with flavorful chive suet dumplings and baked in the oven until the casserole is all hot and bubbly and the dumplings are crusty and lightly browned.  Click on title to go to recipe.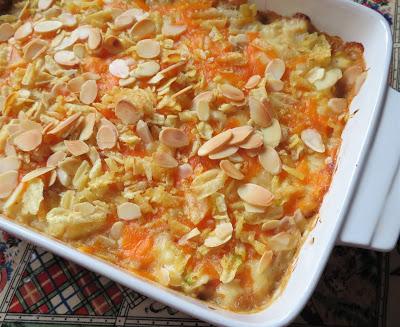 BACK TO THE 60'S HOT CHICKEN SALAD
This was a very popular luncheon dish for Ladies Who Lunch back in the 1960's and 70's.  Simple and yet very delicious! Rich and creamy with plenty of crunch and flavor. Click on title to get this fabulously tasty recipe.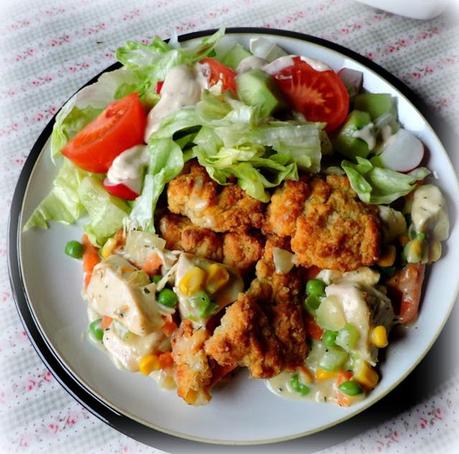 CHICKEN CRUMBLE POT PIE 
Chicken . . .  Check!  Pot Pie . . .  Check!!  Crumble . . .  Check !!!  The three together  . . .  well that just spells Winner Winner Chicken Dinner to me! Click on the recipe title to go to this fabulous family friendly recipe!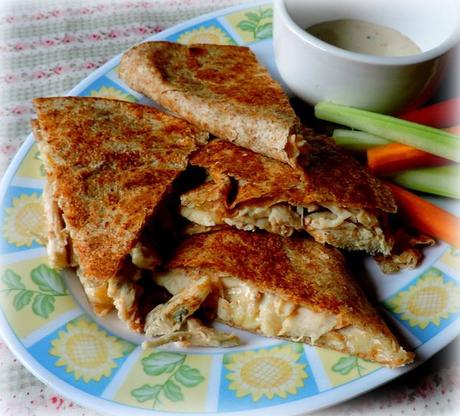 BUFFALO CHICKEN QUESADILLAS 
If you like quesadillas and buffalo wings, you will  love, LOVE these simple Buffalo Chicken Quesadillas!  All the flavor of the wings, with less faffing about. I like to serve the with a tasty blue cheese dressing for dipping and some vegetable sticks. See recipe title for link to recipe.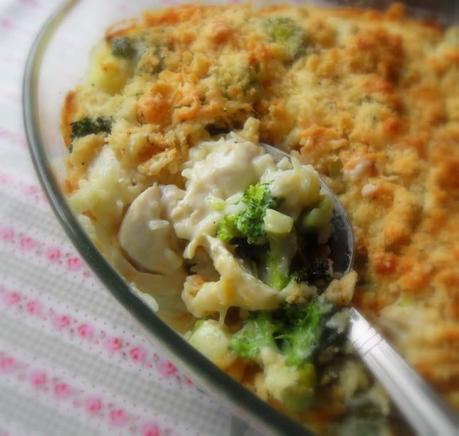 CHICKEN DIVAN CASSEROLE 
It's like having a bit plate of broccoli cheese and chicken all in one go . . . of course the crisp cracker and cheese topping is awfully scrummy as well. It  is an
 economical, delicious casserole that is so simple to make! By using low fat ingredients you can also keep it fairly healthy. Click title to go to recipe link.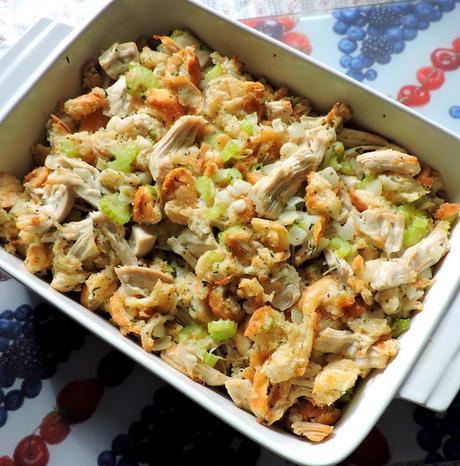 AMISH CHICKEN CASSEROLE
I saved the best for last. Amish Chicken Casserole 
is one of my absolute all time favorite chicken casseroles.   Not only is is a great way to use up stale bread, but you can also use up leftover cooked chicken or even turkey, or you can cook chicken specifically just to use in it.   This is delicious every which way but loose!  Click recipe title to go to link. I like to serve it with some gravy, boiled new potatoes and vegetables on the side.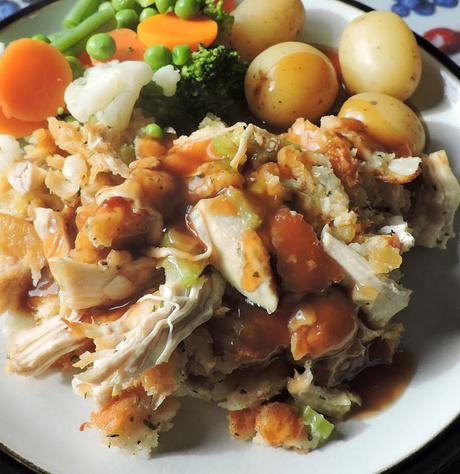 This content (written and photography) is the sole property of The English Kitchen. Any reposting or misuse is not permitted. If you are reading this elsewhere, please know that it is stolen content and you may report it to me at mariealicejoan at aol dot com.