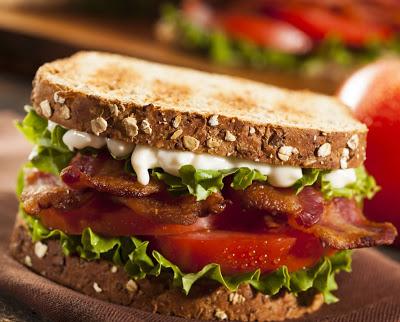 With all of the fresh tomatoes we are enjoying at the moment its fair to say that we are also enjoying our favorite Bacon Lettuce and Tomato Sandwiches.  There is nothing so delicious on earth as a BLT made with fresh garden tomatoes and crisp streaky bacon. We love them and this is the season now for beautiful garden tomatoes. 
The most common way of cooking bacon is in a skillet on top of the stove.  This requires lots of standing and flipping and can be quite time consuming and somewhat messy as it can spatter all over the top of your stove. 
Did you know you can cook bacon perfectly in the oven, and that you can do so easily with a lot less fuss, muss and mess?  Its true you can and here are two ways of doing it that will yield two completely different results depending on what you want to use the bacon for.  Chewy or Crisp, the choice is yours.  (Todd is not fond of overly crisp bacon and prefers his to be a bit chewy.)
FOR CHEWIER BACON  

You  get a chew finish on your bacon when you bake it directly on the baking tray. (Depending on how long you cook it for that is. Obviously if you leave it in for a longer time than suggested you will get a crisper finish.)


  
Preheat the oven to 190*C/375*F and  line a baking tray with sides with some aluminum foil for a really easy clean up.  Lay your bacon rashers out on the tray in a single layer, leaving space in between them. Don't allow it to overlap.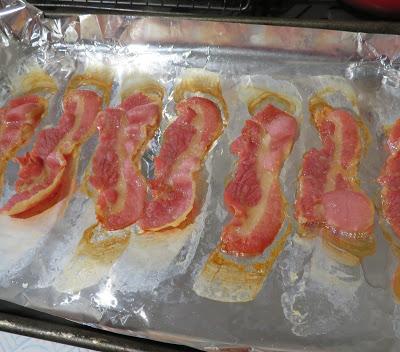 Place into the preheated oven and bake for 15 minutes.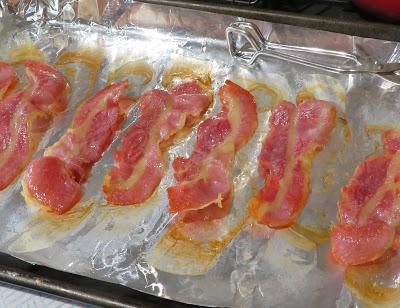 Remove from the oven, flip the rashers over using some tongs. Return the baking tray to the oven and bake for a further 5 minutes.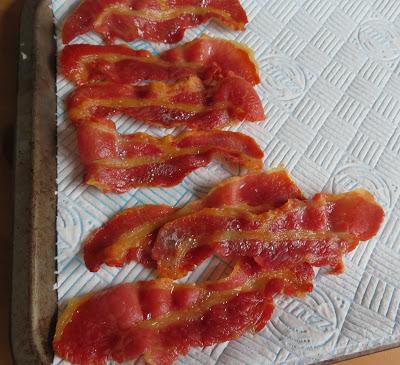 Remove the cooked bacon to a tray or plate lined with paper kitchen toweling to drain.
FOR CRISPIER BACON 
Cooking your bacon on an baking rack, directly over an oven tray results in a crisper finish as the hot air of the oven circulates completely around the bacon.  Do note that you will need to use a cooling  rack that has an oven-safe coating on it as if it doesn't, it could be permanently damaged, or worse transfer something you don't want to be eating to your bacon.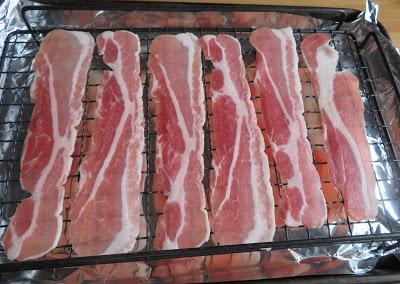 Preheat the oven to 190*C/375*F. Line a large baking tray with a lip with some aluminum foil.  Place the cooling rack on top of the baking tray. Lay the rashers of bacon on top of the cooling rack in a single layer, leaving space between them and taking care not to overlap them.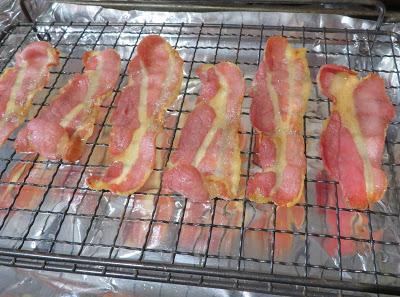 Roast in the preheated oven for 15 minutes.  Remove from the oven.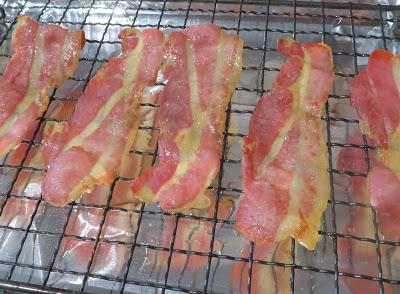 Using a pair of tongs, carefully flip the bacon rashers over and then return the pan to the oven.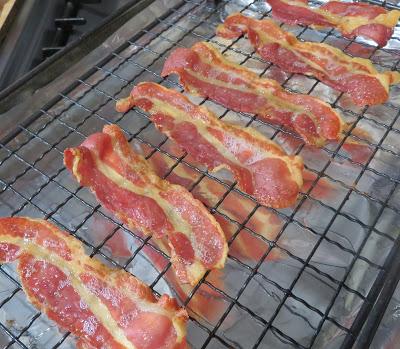 Roast for a further 8 to 10 minutes until completely cooked and crisp.  Remove to a paper towel lined plate or tray to  drain.

 
Here you can see the difference between the two methods of roasting. For a  Bacon and tomato sandwich I prefer the bacon a bit chewy, baked directly on the baking sheet.  For something like a Caesar salad or another dish where you will be crumbling the bacon I like to roast it on a rack. 
When I cook my bacon I always cook the full package. Once cooked and drained, you can  store it in a zip lock bag in the refrigerator for up to a week, or freeze it in an airtight container for longer, ready to take out as and when you need it.  Why pay a premium price for already cooked bacon when it is so very easy to do yourself and so easy to store, handy and ready to use as and when.
I often buy bacon when it is on offer and will cook up the whole lot.  Obviously these timings are just guidelines and works well for thin rashers of bacon. If you have thick sliced bacon it may take a few minutes longer. 
Any cooked bacon can be simply reheated in the microwave. Wrap in a slice of paper towel and nuke it for about 15 seconds on medium to reheat.  
Here are some of my favorite ways to use cooked bacon!  Simply click on the recipe titles to go to the recipe.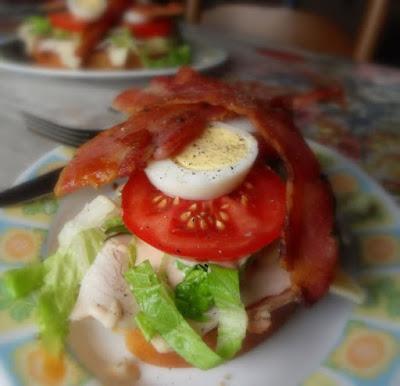 The Hearty Salad Sarnie (Sarnie is another word for sandwich.) An open faced knife-and-forker with sour dough bread, baked deli ham, sliced deli turkey, sliced ripe tomatoes, sliced hardboiled egg, lettuce and crisp bacon, accompanied with a rich and tangy dressing.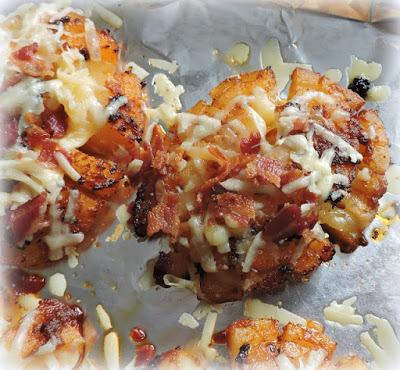 All Dressed Blooming Baked Potatoes. Petal cut potatoes, specially dressed with a butter baste prior to baking in the oven, topped with cheese and  crisp bacon. Serve hot wih sour cream and spring onions.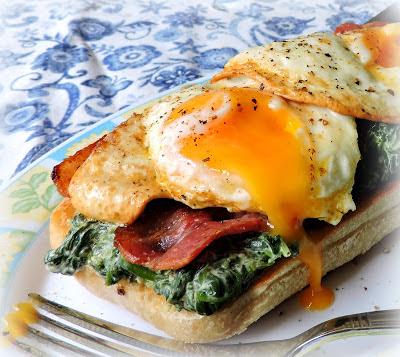 Bacon, Egg and Creamed Spinach on Toast. Toasted Ciabatta rolls topped with creamed spinach, crisp rashers of bacon and fried eggs. Incredibly simply delicious!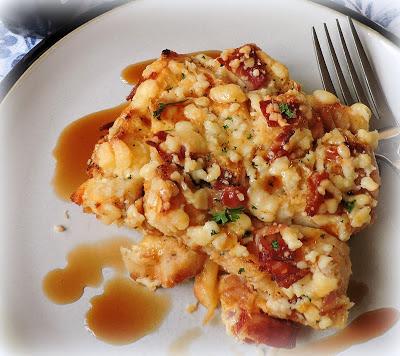 Bacon and Egg McMuffin Casserole. This is like having your favorite fast food breakfast sandwich in the comfort of your own home.  This is a delicious casserole and is sure to please the whole family!  You can have it for breakfast, but in all honesty, we enjoy it for supper. You can serve it with ketchup if you like or syrup.  I am partial to Maple syrup on this.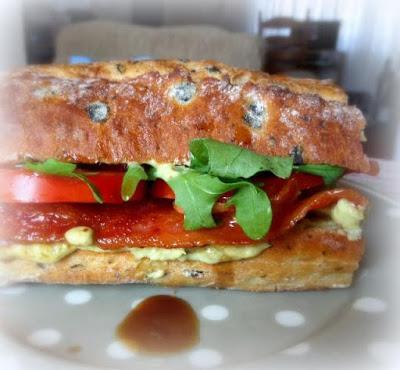 Two Hander BLT Sandwich. This is the absolute BEST BLT you will ever eat.  Seriously.  With a Basil Pesto Mayonnaise, crisp bacon, fresh ripe tomatoes, house dressing and lots of lively fresh rocket leaves . .  . and a sturdy baguett.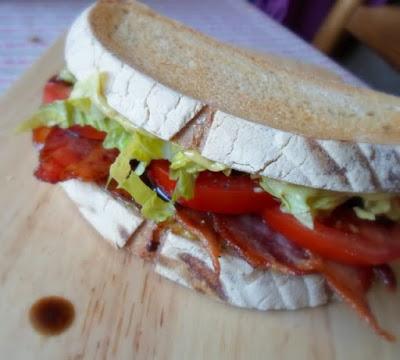 World's Best BLT. What makes it the best?  Well maybe it's the Pesto Mayo . . . or it could be that lovely Balsamic House Dressing that you drizzle over the tomatoes.  Whatever it is, it IS the world's best, hands down.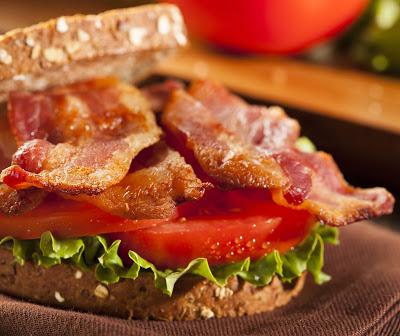 And then of course you can just go old-school with some toasted bread, mayonnaise, crisp bacon, sliced ripe tomatoes and plenty of crisp lettuce. 
All of this talk about bacon is  making me hungry again!!  Its a good thing I have some already cooked and waiting in the refrigerator! 


Follow my blog with Bloglovin