Your business website is your storefront. It gives your prospect their first impression of your company. You only get one chance to make a good impression so work hard to make it count!
There are a few basic I am going to give you to help you get yourself in a great posistion to make the most out of your visitors experices with your website. With just a few simple tweaks you can create a website that attracts clients, leads to convertions, and helps your business grow!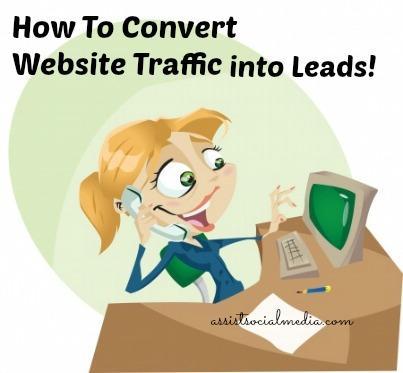 Make Sure you invite your warm audience to your business Site!
Invite Your Friends and Followers on social media! Simple but over looked way too often. Make sure every platform you have gives visitors a way to get to your business website. A Visible link to your business site should be on every single platform you  have a profile. All roads should lead to your website! It's what making yourself standout of social media is all about!  Don't miss the chance to turn those social media fans into vistors to your website!
Interaction / Comments
Does your website invite visitors to comment on your articles and blog posts? One of the best ways to not only measure engagement, but to also create it, is to take a look at your comments. Are you creating buzz about your business? Take a look at your comment section and see what's happening. This can be very revealing!
Some business owners choose to not allow comments. It's really a missed oppurtunity to build a relationship with people who are interested in what you have to offer. Engage your visitors in conversation and invite interaction and comments. You'll not only learn a lot about your audience, you'll help build a loyal community of customers.
Search Field
It doesn't matter what the foundation is for your website – Joomla or WordPress or anything in between – it is important to make it fully usable by anyone who visits. One simple tool you can use to make this happen is a  search field.  You can help guide vistors to just what they need with a search box!  Who knows they may see things they didn't even know they were wondering about!
  Contact Page
The contact page is so simple but another one of those over looked items. Make it simple for people to get in touch and you'll be surprised at how often they will. Include name, phone numbers, email addresses and physical address if you have a brick and mortar. Also consider including any social media links on this page. Each person you do business with will have a different way they prefer to contact you! Make sure you show visitors you want to hear from them.
Social Share Buttons
Add a social share button to everything! This is great for your visitors and your website!  It they like what they see, they will share it!  This will add SEO value to your pages and post! You like to share great information, don't you?  Make sure you have a way for your visitors to share your site's information.
Sign Up forms
Be sure you have sign up forms for updates, free downloads, and valuable information. A smart place to add one? At the end of each of your blog posts.  On your site's sidebar is another great place to gather leads. If you don't have a way for people to get to know you – you are letting vistor leave who may never return!  You can guide them back by adding them to lists and sharing information with them via email!  You can find out more about adding and building custom forms  by clicking – How To Build an Email List 
50 Ways to Convert Website Traffic into Leads
If You would like more tips I can give you 50 in all! Sign this form and I'll send you a PDF with more ways to turn leads into sales!
 
These are my favorite ways to convert traffic and leads for business. What are you doing that really converts traffic?  Are you aslready using these options?   Leave me your best tips in a comment below!