It is something inevitable, everything gets dirty, especially what you spend your day putting your hands on. And what do you play more than the smartphone? The touch screen of our mobile phone regularly suffers our harassment and if it is a device for the whole family as a tablet, even more. Our smartphones are also victims of dust from the environment or the fluffiness of bags and pockets, so it is never too easy to know how to clean it properly.
As always, prevention is better than cure, therefore I suppose that no one will be able to throw their smartphone into the mud, but it is also possible that this type of accident happens. To be able to clean your smartphone properly and to leave it again almost like the first day, the main thing is to have a guide with good advice like the following.
How to clean a smartphone properly
Before starting, we will evaluate the dirtiness of the terminal. The method to follow if you have mud spots is very different from if they are just fingerprints. Let's see what materials we need so that our smartphone is impeccable:
Microfiber cloth
Rods (are worth those of the ears)
Wipes to clean screens
Distilled water
Before starting cleaning, it is best to turn off the terminal in order to proceed with greater security. Also, if the screen is off, dirt is better seen with the reflection of light.
If the smartphone in question has solid residues that may contain abrasives, such as grains of sand that can scratch the screen, we will proceed with great care, trying to remove as much as we can with toilet paper, sticks or blowing without rubbing avoiding pressure on the glass.
If what you have are spots of organic remains, food or cooked, and these are so embedded that you can not remove them with a dry microfiber cloth, then you can moisten a little with distilled water to soften the rest a bit.
Warning: To moisten the cloth, it is best to apply the distilled water with a spray on the cloth. It is important that the cloth does not drip. If a little moisture enters the terminal it will be a reason to void the warranty, so proceed with great caution when applying liquids to your smartphone or tablet.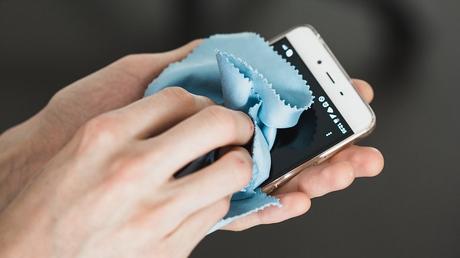 In case you only have fingerprints, it will be enough to rub in circles with a microfiber cloth, making sure before you have no solid residue on the screen blowing on it. If you have many fingerprints, it is best to use a wipe to clean screens.
If you can also remove the back you can clean the dust that accumulates under the lid. Use a microfiber cloth for the surfaces and a swab for the most inaccessible corners.
To clean the connections like the USB port or the connection for the headphones you can blow on them to remove the particles that have inside. If it's not enough, you can use a pin, but be very careful and make sure the device is turned off.
How to protect it from dirt
To prevent small particles of dust or dirt from entering the slots and edges of our smartphone, it is best to use a protective case. On the internet we can find a wide variety of bumpers and cases.
On the other hand, to protect the screen the best is a plastic or protective sheet, as they are specially designed to avoid scratches and dirt.
How do you clean your smartphone? Do you know any tricks?