'How to choose your interior décor color palette' sounds like we have all the answers – oh, if only it were that simple! Just write out a prescription and off you go to the paint store, interiors store etc. Unfortunately, or fortunately, whichever way you look at it, color is a complex subject. It's very much ruled by your personal, emotional reaction to color. I dislike blue, blue toned colours such as teal yes, but blue, is a no no, something my mother (a blue lover) can't get her head round. But apparently blue is the favorite color globally, so obviously I am in a minority here. So really, we are talking about how to analyze your reaction to colour, and decide what it is you like.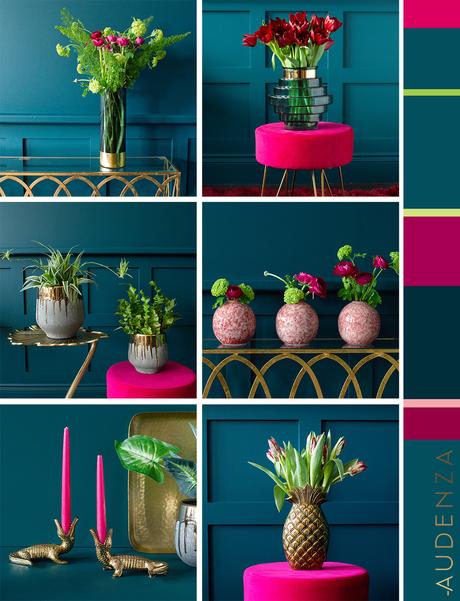 Grey Glass Vase
|
Isla Glass Vase
| Dripping Gold Plant Pot | Rose Bud Vase | Crocodile Candle Holder | Pineapple Vase
Finding Inspiration
Where to start with inspiration? Pinterest is a great place to look. It doesn't have to be interiors shots. Any images of color combos that you like helps to spark ideas for you to create your own private mood board with. Instagram is another great way to get the feel of colour, color combinations and what inspires you personally.
An amazing website called 'Design Seeds' has a vast array of color palettes. So, if you like pink but aren't sure what to pair it with, scroll through their pink color palettes for ideas. Also, I can't mention color palettes without mentioning a fabulous book I wrote a previous blog on called 'Love Colour' by Anna Starmer. It's an invaluable color resource that helps you to see how colours react to each other. Also, how the proportions of each color in a scheme can change the feel of a room.
Inspiration is everywhere. Perhaps there is piece of fabric you love, or a painting, or even a piece of china. Use it as inspiration for a color scheme even if it's not to be used in that room. This is a photo Hollie took in Ravello and Amelia made a color palette from to give you the idea.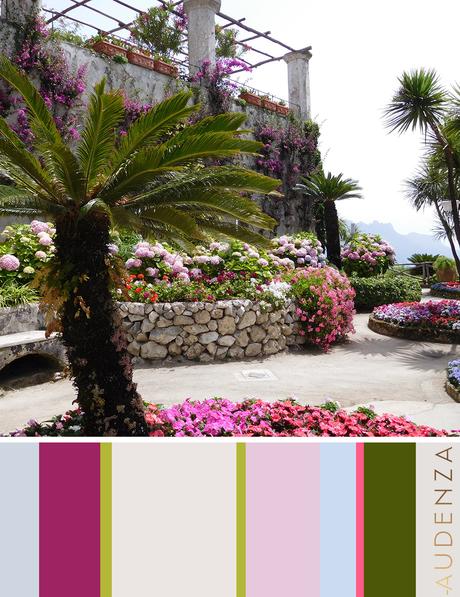 How Do You Want the Room to Feel?
We are all drawn to a personal selection of colours and combinations, but what do you want to use the room for? What feeling do you want to create? Calm and relaxing? Vibrant and stimulating? A cocoon of warmth? And you must take into account the natural light in that room. My front sitting room doesn't get much natural light and I only use it in the evening so I wanted it to be a warm cocoon, hence dark blue walls. I know, I know, I said I don't like blue but its so dark you can't tell in electric light. I did paint it dark gray initially but found it too cold. The dark blue has a warmth to it, especially when accented with mustard, ruby and gold.
I wanted my garden room, which is light filled, to be a reflection of my garden. I started by looking at wallpaper until one spoke to me. Sounds daft but that's what happens, and moved onto strong shades of green for the sofa and cabinet to add depth. I then accented with pink and yellow, and gold, as always. Orange and coral are creeping in for vibrancy and to avoid it becoming too sugary sweet. And bland, to my eyes, but it's your room, your choice. I personally like a hit of color.
Think About Natural Light
When you've found a combination you think will work for you, start gathering paint samples and fabric swatches. Arrange them on a large sheet of paper to get the feel for them. Paint large pieces of lining paper in your chosen colours and masking tape them to the walls to see how they look in different lights. I can't stress enough how important this step is, a paint color can change according to the light throughout the day.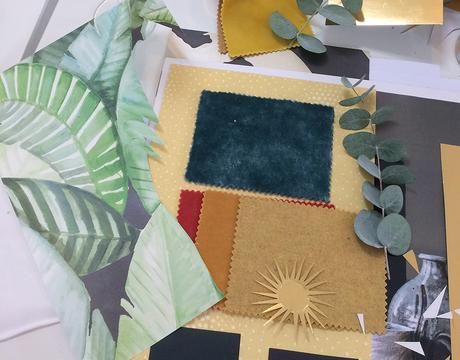 Next, try different accent colours on your mood board to see how it affects the basic color scheme. You can add a little or a lot depending on how it makes you feel. Cut out small pieces of a color you like from a magazine to add to your mood board before investing in lots of paint sample pots. When you think you've found the accent colours, then invest in some paint pots.
Think About the Balance of Colours
The 2 teal palettes (1 at the top of the post and 1 below) both use the same colours, but they show how important the proportion of each color you use is. The first palette looks more refined with the main quantity of color being teal. It is accented with small pops of color to enliven and stimulate. The second palette uses equal proportions of each color. Although all the colours look good next to each other it can start to look a bit like a carnival. But maybe that's the look you're trying to achieve. After all, it's your room, so it really is a case of playing about with finding your own scheme that fits your style.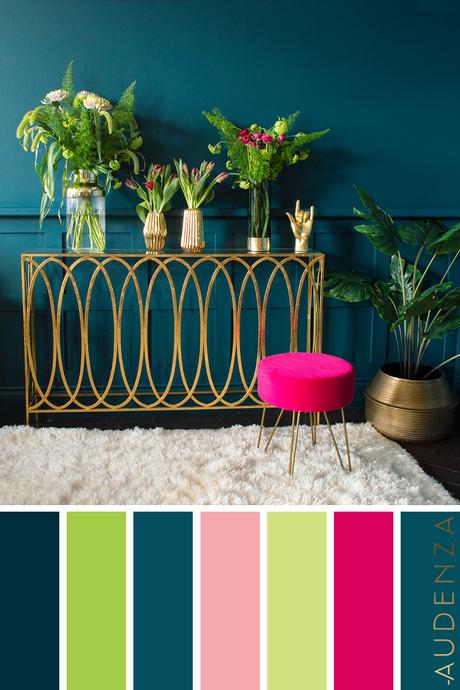 Gold Circlet Console Table | Gold Rock On Hand | Pink Velvet Footstool | Hand Tufted Shaggy Rug
So, get out there and get looking. Don't just sit looking at your 4 walls waiting for inspiration for your interior décor color palette. Open your eyes and really look at what's around. Take inspiration from wherever you find something that speaks to you, personally. Not your friends, neighbours or family. It's about what you like. If you'd like a little more help on that, read this post: How to Define Your Interior Style.  And do buy the 'Love Colour' book. It's a great resource that will become your color bible. And no, I'm not on a cut! I was however, kindly gifted a copy to review, but it's such a fantastic resource that I recommend it at any given opportunity!