Well, you might say it is a simple activity. Just go to the market and select any water purifier that is available on the shop. In addition, if some intelligence is needed, just look at the different models and variants. The one available in large quantity must be the hot selling one and thus it is better to go for that. But that is not the case. Because there are various technologies that are used for water purification in India. While some are simple ones that we used to adopt when there were no water purifiers in the market all might not be that effective. And even now all those that are available in the market might not be the relevant or applicable according to the locality or area you live in. It is true that every technology has its own pros and cons. But choose the best.
With changing lifestyles and environmental conditions, water purifiers are becoming the basic necessity of every house. There are a number of RO water purifier brands available in the market. It is important to understand that it is not only best prices that play the role in ascertaining which one to buy. The modern consumer has to know the importance of a better lifestyle and safeguarding family members from various kind of water-borne ailments. As the variety and cases of water-borne diseases are increasing exponentially, that is the main reason for increasing popularity of water purifiers. Still, the critical factor is how to find the best RO water purifier? Should you go for a simple RO water purifier? Or should it be an RO UV water purifier? How to ascertain all this. And then what about the RO water Purifier price? It's quite tricky proposition but not difficult.
Buy the best RO water purifier wisely
After all, it is important to understand that commodities like this are not purchased on day-to-day basis. It has to be the best solution for your family in all possible ways and available options. Logically, it has to be the most advanced device at home if you really want to get purified tap water. In such devices, the process they adopt to purify the water is Reverse Osmosis. In that, they use a semipermeable membrane that smartly removes ions, larger particles, and molecules from the tap water. In fact, if you talk about the good quality water purifiers, they come with UV-Ultraviolet Filter. This filter helps in eliminating bacteria and other pathogens from the tap water during its purification process.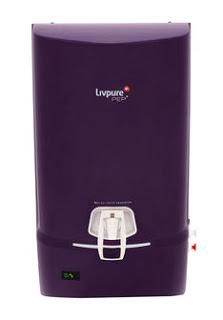 For instance, if you visit Livpure website, there is ample information in this regard. And when you look at a model and its price, you also get to know the benefits it offers. In addition, you can compare the features of various models in order to choose the best RO UV water purifier for your family.