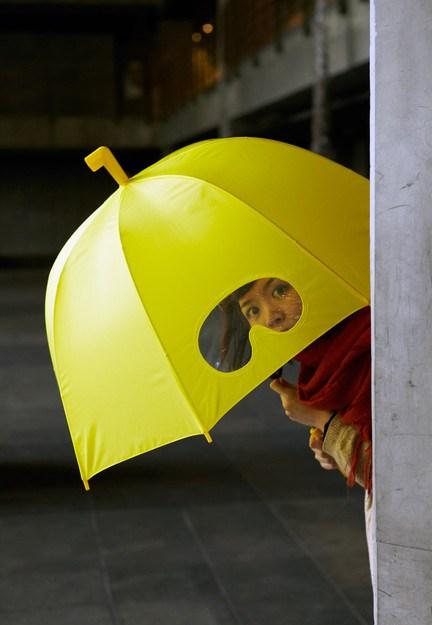 For many of us, the rainy season is a time when choosing your clothes and accessories becomes more difficult than the rest of the year. For some us, this happens in the fall, the spring or even all-year round.
The rainy days of the year are best spent inside, but if you need to go out there is one accessory you'll definitely need, and that is an umbrella.
Choosing an umbrella should not be hard, there are just a few main things you need to consider when picking one.
Let's take a look together at main things you should look out for when choosing an umbrella:
Portability and context
When you are choosing to buy or to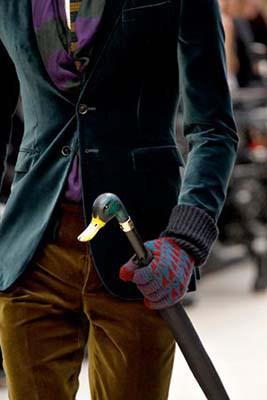 carry an umbrella, you should always consider the way in which you will carry your umbrella and what you will do with it once you get there. Sometimes, you will find that an umbrella that can be collapsed might be more practical, but at other times an already-stretched one can be the solution.
You should take into consideration factors such as how and where you will carry it and how you will dry it.
For example, in some places there is no room to let an open umbrella dry or there is no room to hang a small umbrella to dry, so you should take those things into consideration as well.
Also, you should remember that a bigger umbrella is not always a good idea. Umbrellas with smaller canopies can be more useful in case of light rain, for children or for walking in crowded spaces.
In theory, all umbrellas should be sturdy and strong, but usually traditional (non-compact) umbrellas are stronger in windy conditions, while compact models are more likely to revert when faced with strong wind conditions.
Style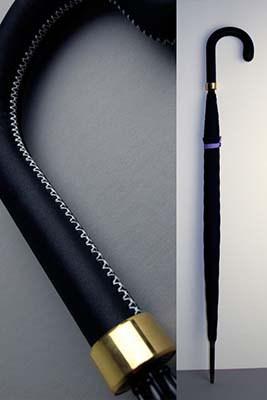 The style of your umbrella, like your clothes, is most likely to be dictated by the setting in which you will use it. Dressier settings require a dressier umbrella, while in casual settings you can go for more options.
Speaking of dressy umbrellas, these are usually non-compact umbrellas that have a handle covered in leather, faux leather or that's made of wood and that have rather dark or muted colors.
It also needs to be said that compact umbrellas can have a sleeve that makes them appear less bulky and more fashion-forward.  Compact umbrellas are usually the go-to "just-in-case" umbrellas and can be carried in a bag, backpack or briefcase, so that you don't add another style element to your look.
Size and shape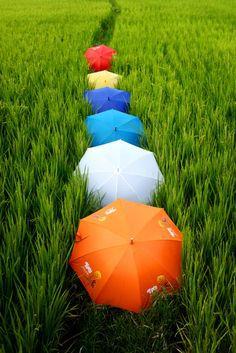 The size and shape of an umbrella is a very important part of choosing an umbrella. Sometimes, smaller, more discreet umbrellas might seem a better option, but will they protect your body from the rain? A good umbrella usually has a size and a curvature that is just right so that that rain that falls on it slips away around you and that creates a protective area all around you, not just your head. Basically, the larger the canopy, the better it will protect you from precipitation, but the size is relative, as it is in proportion to your size. Generally, umbrellas that collapse have a smaller canopy, so you should always consider that. Finding a model that is both compact and has a large canopy is not easy, but it can be done.
Also, a good umbrella allows you to cover a lot of yourself by tilting it in case cars are splashing on the street and you need a different type of protection.
Protection
Last and not least, the most obvious factor of choosing an umbrella is the protection, which in the case of rain is impermeability. Don't go for a decorative umbrella which will be most likely made from a fabric that lets water through – it won't make any sense. Obviously.
However, should you plan to also use your umbrella as a parasol (meaning as an umbrella that protects you from the sun), should not go for a transparent model.
The reason why it is important to have a good umbrella is because it will not only be useful, but it will also give you the confidence that you can take on tasks even in the worst of weather. Don't forget to test an umbrella before you use it for the first time and see if it fits your needs in terms of size, style and shape.
Having a good umbrella will help you better navigate a rainy day and protect your clothes and body.
Fraquoh and Franchomme
P.S. We want to hear from you! What are you looking for in an umbrella? What type of umbrella do you have? Why? Share your feedback, questions or thoughts in the comments below! For more articles on style, fashion tips and cultural insights, you can subscribe to Attire Club via e-mail or follow us on Facebook, Twitter or Instagram!