How To Change Language In Google Chrome? It is one of the questions that I received from my reader. And I thought of writing a post on changing language on google chrome. Google Chrome offers its services in many languages that are spoken all over the world to reach to every person. By default, google chrome comes with English (United Kingdom) language.
You can change the language of google chrome to your desired language such as Arabic to English, Spanish to English, Hindi to English and much more.
Also, read google chrome tips and tricks: Are you worried about deleting history in chrome? Here we a trick to delete history in chrome, on Android and iPhone
How to change language in google chrome
1. Open the google chrome
2. Tap on the
(
three dots
) that are present on the right corner of the chrome
3. Click on settings
4. Tap on a drop-down menu which is present on the left top corner
5. Tap on the Advanced option
6. Select languages option
7. Choose your preferred language (Can also add preferred languages by with add languages option)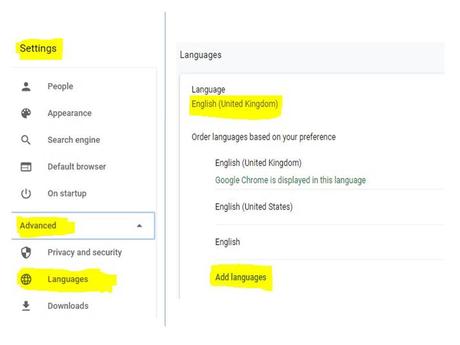 That's it now your google chrome language is changed to your preferred language. And you can easily browse on your own preferred language without any worries. To change language quickly and easily go here
Google chrome is one of the most used browsers in the world with quick searches and updated security option and it is very safe to use without any security hacks.
Browse without being tracked in chrome: Are you worried about being tracked on your activity on the internet? Looking for a solution? we got you covered! By using VPN services you can browse safely and here we have  listed out the Best VPN services for chrome (latest collection)
Protect your online activity without being spied: Are you using the Windows? Worried about securing your online activity? Check the Best free VPN for windows to protect your data present on the internet.
In the previous post, we have listed out the best Android browsers to use. This collection includes the use of the latest features with updated security options. Choose the best browser for your android device.
Change language in google chrome
We hope that the post on How to change language in google chrome has helped you in selected your preferred language on the google chrome. If you find any difficulty in changing your language on google chrome, you can write to us through the comments section and we will help you out with the most suitable answers.