Although there is a wide variety of excellent Android phones available, that was not always the case. Previous models were slow, inelegant and prone to errors. That is no longer the problem, but the fragmentation of Android is out of control; There were 24,000 different versions of Google's mobile operating system (OS) until 2015.
In comparison, the iPhone has been a great example of an attractive design in software and hardware, controlled by Apple to ensure that their devices provide an experience as similar as possible. After 10 years, the iPhone is still very attractive, and now that the iPhone Plus has large screens, it is more tempting to make the change. Are you thinking of doing it? This guide will help you make sure the transition is as easy as possible.
Get ready for your new iPhone
Switch to the iOS app
Apple avoided a bit of the difficulty of switching from Android OS to iOS by launching an Android app called Move to iOS (below). This promises to establish a direct wireless connection from your old Android to new iPhone, and will transfer the following: contacts, message history, camera photos and videos, bookmarks, email accounts, calendar and wallpaper. The Move to iOS app will also suggest you download the iOS versions of the Android apps you have installed, assuming there is an equivalent for iPhone.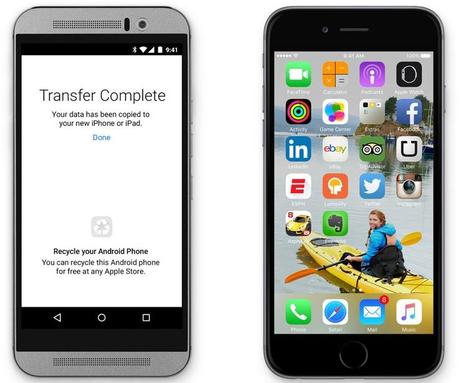 Note that Move to iOS only works when you are setting up an iPhone for the first time – it is not for transfers to an iPhone that is already operating.
Use Google services
If you have already committed part or all of your digital life to Google services such as Gmail, Drive and Calendar, you are in luck. All the most important Google services have their versions on iPhone with similar functionality, if not identical.
For example, it's easy to use the dedicated Gmail app for iPhone. Or synchronize your Gmail accounts with any iPhone email app, from which it comes integrated to third-party apps like our favorite, Microsoft Outlook for iPhone. Google also has a special Google Inbox for Gmail that makes the interface even easier. You will also find it easy to use Google Drive to access your files, or use the individual Docs, Sheets and Slide apps for editing.
This is particularly useful for your contacts. Organize all your contacts in your Google Contacts on Android (or using Gmail on your PC), and then synchronize your Gmail with iOS contacts once you're on your iPhone. Apps like MyContacts not only create an endorsement of your Android contacts, but it also makes it easy to edit names on the web and import them into iOS (or vice versa).
Centralize your multimedia content
There was once, when iTunes was the dominant app to listen to music, especially on PCs and Macs. With all its disadvantages, iTunes, like the services of Apple iCloud and iTunes Match, made it easy to access your music on all your devices, but not on Android.
If you've bought a lot of music through the Google Play store, download everything to your local PC – you'll have to do it on the computer – in music.google.com. Then open iTunes on PC and drag all your music files there. Synchronize them on your iPhone by connecting it with the cable that goes to the PC while iTunes is running. Or use iTunes Match for $ 25 a year to synchronize music files to the cloud and access them on any Windows, MacOS or iOS device.
Or you can not worry about this and, instead, use Spotify, Apple Music or Amazon Music, each of which costs $ 10 a month to do unlimited streaming and have offline access to your playlists, plus almost any song that exists.
The multimedia content also includes photos and videos, and it is likely that you have many on your Android. To make sure you have them in full resolution, connect your Android phone to your PC via USB cable (or use a memory card if it is an option) and copy everything physically to a storage hard drive. You can put some of your favorites on the iPhone by adding them in iTunes and synchronizing.
Even better, use a service that automatically backs the photos to the cloud, which you can access from both phones. The latest version of Google Photos, in particular, provides unlimited storage of photos; Refill them on your Android phone and they will all be accessible on your iPhone (and PC).
Other services such as Microsoft OneDrive, Dropbox and Flickr have mobile apps on both platforms that offer similar support and access, although in some cases it will cost you additional space. This is especially good if you want to keep your old Android after switching to iOS to use as a backup camera or phone. (Remember to open apps from time to time to make sure backups are being done successfully).
Relieves pain with the USB cable
With iOS you no longer have to connect an iPhone to your PC regularly when you use your cable only for updates and backups. A lot of that happens in iCloud. You can also do it wirelessly with the PC, but the iPhone needs to be connected to a power source; a strange limitation. Either way, it makes charging your iPhone easier by getting a small desktop dock that keeps the horrible cables out of your sight, as well as making it easier to connect and disconnect your iPhone.
Once you have your iPhone
Learn the user interface (UI)
The iPhone has a notification bar similar to Android, but still you need the function keys or the button to return. Your home screen is really the first menu panel. Das swipe between several menu panels, which contain the icons of the apps that do everything you want. Da swipe to the right from the start menu to get to the widgets, swipe down from the top to see all your notifications.
A single button at the bottom of the iPhone screen returns you to the home screen. To move or delete an app, hold your finger on any icon until it starts to shake, then move it to another side or inside a folder (place it on top of another icon). Or click on the X that appears next to the icon to delete the entire app (not just the icon).
The start button also serves as a fingerprint sensor (called Touch ID) on the newer iPhones. The Touch ID can be used not only to unlock your cell phone (or use your 6-digit PIN), but also for additional access in banking apps, messaging apps or to pay for things using Apple Pay.
The "multitasking" of apps happens automatically in the background, you can close individual tasks by double clicking on the start button to access the App Switcher, then swipe up any app you want to close. Contrary to popular belief, this does not save battery or speed up your device. Apple's iOS system controls how apps use the memories and deactivate those that are not in use after a while, unless they have privileges specified in the configuration; Post or GPS apps, for example, keep running.
Do not forget to enjoy the beautiful absence of bloatware on iOS (except for some apps provided by Apple). It is, supposedly, the best thing about Apple; maintain absolute control of your hardware and operating system. And even iOS 10, you can even remove the apps previously loaded by Apple such as Stocks, Apple Watch, Tips, etc., which not everyone uses.
Explore the App Store
The most important reason to switch to iPhone is still the App Store. Google Play has improved a lot, but as a general rule, the Apple App Store still offers the most extensive variety of applications. It is not a religious war, it is simply easier for iPhone developers to sell their apps and receive money for them.