Although my wilderness survival skills may be somewhat questionable, I do know how to catch a guinea fowl – Namibian San (bushman) style. At least I do in theory…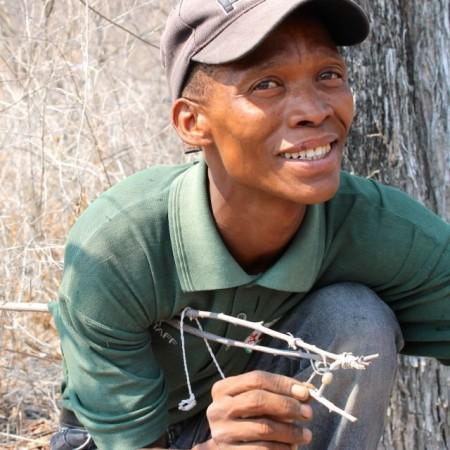 Elvis demonstrating how to attach the nut to the stick to catch a guinea fowl in Namibia.
The first step is to find a Hansa (a dark brown nut) that is a favorite food of guinea fowl. Attach it to the end of a sharp branch. Next tie a rope to the end of a branch that is long enough to reach the ground. Ensure that the branch is high enough off the ground that it leaves a guinea fowl hanging. The trap will not work otherwise.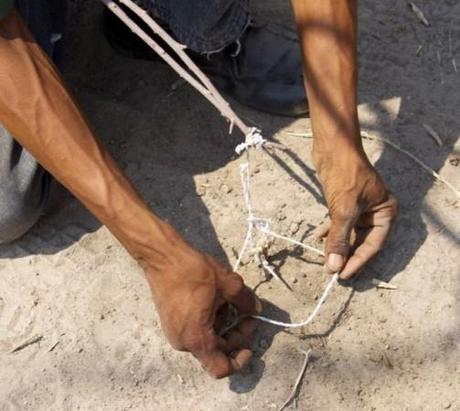 Place the noose around three sharp sticks that are half buried in the ground.
Then tie a loose knot at the other end of the rope, ensuring that it's big enough to go around a guinea fowl's head. This will be the noose.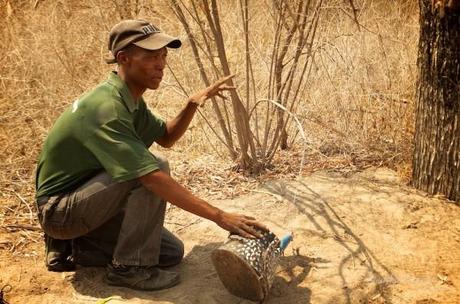 Elvis simulating a successful guinea fowl catch. Photo by Lourika Reinders.
Presto! In a matter of minutes, you have created a guinea fowl trap, still used today by the San in Namibia. Our guide Elvis recommended setting 2-3 traps, but says he usually sets six to ensure his success.
Now, patiently wait for a guinea fowl to take the bait. Guinea fowl don't usually travel alone, but your trap is only capable of catching one at a time.
Elvis constructed the trap in a matter of minutes. What do you think, could you catch a guinea fowl Namibian San style?
Learn More About How to be a Namibian San:
Learn more about how to be a Namibian San on a bushwalk at Treesleeper Camp, located near the village of Tsintsabis.
A ~ 2 hour walk costs 110 Namibian $ (~€8 or $10 USD)
It's a sustainable, community tourism initiative.
A village tours and cultural performance are also available.
Advance reservations are required.  Book at least two days (or earlier) in advance. This can be done through their website.
Thank you to the Namibian Tourism Board for making my visit possible. As always, all opinions expressed are my own.