Amazon Echo, this name you have heard or seen at least once on your social media or in online shopping stores. We have seen google assistant for controlling our mobile with voice recognition. Here Alexa did's the same by taking your voice as the input and helps you in finding answers and acts as the best assistant for you. In this post, we will guide you on how to buy Amazon Echo by Invitation only process.
Amazon Echo was limited to only some countries and for today it started its products in India. As the part of Great Indian Festival sale amazon Echo is officially available for India and the sales are to be carried out by the Invite only process. Invite only process is the tradition of bigger brands that releases its products by the Invitation process and the product can only be delivered to you when the company accepts your invitation.
Buy Amazon Echo by Invitation only process
Follow the steps as mentioned below to order the Amazon Echo and get delivered to your home
Firstly go to Amazon store from here, and select Request Invitation option which is present on the right side of the product. When you click on that option you will get a message that says you will get an email in coming weeks if your invitation is accepted. That's it now cool and relax until you receive a reply on the Amazon Echo. If your Invite was accepted you will receive an email and fill out your delivery address to experience the Amazon Echo.
What is Amazon Echo?
Amazon Echo is a hands-free speaker you control with your voice. Echo connects to Alexa Voice Service to play music, provide information, news, weather, answer questions, sports scores, and more – instantly. All you have to do is ask the things. For example "Alexa, how is the weather today?", "Alexa, play the Bollywood songs" you will instantly get rely upon the Alexa with best actions.
How to setup and use Amazon Echo
It is very simple as you read the steps
Plug in Echo and connect it to the power source

Connect to WiFi with the help of Alexa app

Now ask anything and get answered instantly
Amazon Echo Features
Dual  inbuilt speakers

Streaming WiFi music

Connect to speakers

Smart home compatible

Bluetooth connectivity
It is available in three color variants namely charcoal fabric, Heather gray fabric, Sandstone fabric.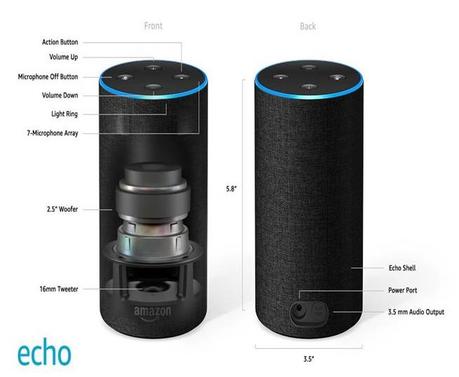 As the part of the introductory offer, you can benefit with Amazon Prime membership for 1 year. With Prime membership, you can enjoy free delivery, special offers, ad-free music streaming service on the Echo device.
Alexa updates
All the updates will be available with the Echo. It is fully upgradable to feature with new skills and the latest information. This means your Echo device keeps you always updated and answers you the latest answers. With Alexa, you can book car ride, pizza and much more.
Read: How To Remove Facebook Ads In Newsfeed and Sidebars
If you are looking for the best assistant for your home then Amazon Echo would be a great choice for you. If you love the post, share it and spread the post with your friends. If you are still facing any doubts on How to buy Amazon Echo by invitation Process you can write to us through the comments section and get your answers published instantly.