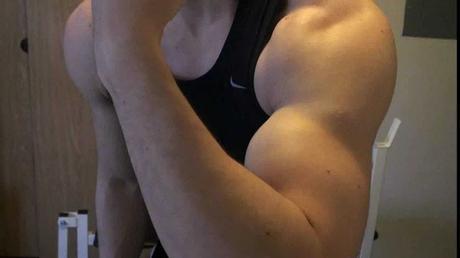 Did you know that lifting weights is NOT the best way to build big biceps?
It's true. Barbell curls, dumbbell curls and cable curls are great exercises... but there is one single exercise that is far more effective and building raw strength and packing new muscle onto your biceps.
And best of all, you can do this exercise right in your basement or in your bedroom.
The exercise I'm talking about is the chin-up.
I understand that you might be skeptical. After all, not many guys give much thought to the old chin-up anymore.
But I will prove to you that the chin-up is one of the most brutally effective exercises for adding muscle mass to your biceps.
Why This Exercise Is So Effective: Proof Point #1
If you want big biceps, it's a good idea to look around and see who has big biceps and discover how they managed to build big arms.
And if you do some research, you'll see that male gymnasts have some of the most impressive biceps. Sure, mammoth steroid-pumping bodybuilders have big biceps but in many cases these short, tiny male gymnasts will have even bigger biceps.
Oddly enough, most male gymnasts don't spend a lot of time in the weight room. So how do they build such massive pipes? Simple, they do a lot of chin-ups.
roof Point #2
In the late 1980's, scientist's set out to discover what were the most effective exercises for each body part.
They discovered that chin-ups were the most effective muscle-building exercise for biceps. Here's the science: It turns out that when your entire body is moving through space, it forces you to recruit more muscle fibers and in turn, grow muscle at a faster pace.
This is stark contrast to curls, where your body remains stationary and your hands move the muscle. With the chin-up, your hands remain still and your body is moving through space.
Variations:
Here are some variations on the standard chin-up that you can use to pack more meat onto your biceps.
The negative: This is perfect for guys that are not yet strong enough to do a true-chin-up. Start out standing on a chair, grab the bar and lower yourself as slowly as possible. Then stand up on the chair again and repeat.
The towel: Drape a towel over a chin-up bar. Adjust the towel so that one end is longer than the other. This makes the towel uneven and forces your muscles to work in a new position. Grip the towel and pull yourself up to the bar.
The one-arm: This is a true test of strength. Grab the bar with one-hand and see if you can do a chin-up. Less than 1% of the population can. If you cannot, try the a "fake" one arm chin-up. To do this exercise, grab the bar with one hand and without your other hand, grab the wrist of the arm that's holding the bar. This is also a great exercise for building up grip strength.
Work hard at this old school exercise and you'll watch your biceps grow like never before.
Source