Garden sheds provide homeowners with alternative storage solutions. They come in various sizes and can be made from different materials. A garden shed can also increase the value of your home as there is extra storage space. If you're about to build a garden shed in your backyard, perhaps you can adopt the tips listed below.
Consider everything you'll need to build a sturdy garden shed. From the materials used, measuring the space, setting down the foundations, and construction planning, you'll be able to save money with these handy tips. If you want an idea of how your garden shed will look, you can also visit shops like Duratuf Garden Sheds and use their handy 3D shed builder to plan it.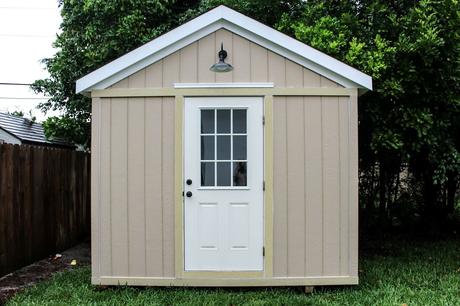 Decide on Materials and Compare Quotes
Construction materials aren't cheap; they'll be some of the pricier items you'll buy for your project. However, if you want to build a durable garden shed, consider using pressure-treated lumber. Pressure-treated lumber is strong and can ensure that your garden shed is durable against most weather conditions. Good structural strength makes it a great investment.
You can approach multiple lumber retailers and wholesalers in your area to get the best lumber. You'll be able to compare quotes and choose the best offer for your budget. You can also visit local independent lumber yards in the area as they offer low prices, and you can always negotiate with them for the best price.
Regarding other parts of the garden shed, like windows and doors, you can visit places like flea markets and antique shops for pre-used doors and windows. This will be more affordable than getting completely new windows and doors.
Source Free or Cheap Building Plans
It's important to have a construction plan before you begin building your garden shed outdoors. Without a plan, you may make mistakes during construction which may cost you more money to rectify later. There are many options available for DIY-ers like you to access building plans.
First, you can buy one at your local home renovation store. Some home renovation stores even offer free plans to their community, so you can ask them when you're in the store. There are many online resources to help people build their garden sheds too.
By having a proper building plan, you'll know exactly what materials you may need and what tools and alterations you may have to make later. By looking at your plan, you'll know exactly how much of each material you need and the type of tools you'll need.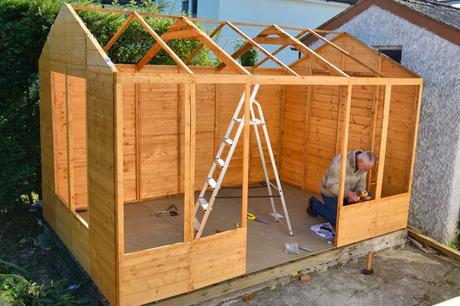 Consider Concrete or Deck Blocks for the Foundation
When building a garden shed, you need to understand that it needs a great foundation. Foundations can vary from concrete piers and slabs to skids and other materials used as foundations. You can use concrete or deck blocks to save money on your foundation. These blocks are affordable and a great way to ensure the stability of your garden shed.
Plus, deck blocks are cost-effective and can provide a great foundation for your garden shed. This is because deck blocks are grooved perfectly to fit 2×2 lumber. Concrete blocks, also known as cinder blocks, can provide a sturdy foundation for your project.
Remember to always prepare your site before using the deck and concrete blocks. To fully prepare your area, you can measure the space and dig a hole. Once the task is completed, you can add gravel to the hole.
Try Using Asphalt for the Roof
If saving money is your priority, using asphalt shingles for your roof is one way to do it. Compared to metal and other roofing materials, asphalt shingles are very affordable. You may have access to various roofing materials such as metal, which can get pricey, and affordable options like corrugated plastic and rubber. Although corrugated plastic and rubber are also more affordable, it's not advisable to use them as a roofing material for your shed.
The roof of your garden shed will have really good water protection. This means you won't have to worry about your roof being compromised due to heavy rains or thunderstorms.
By using these tips, you'll be able to save money and build a high-quality garden shed. Sourcing free construction plans for building a garden shed will ensure fewer mistakes during construction. You can take note of the type of materials available to you as these can affect the price. Using asphalt for your roof means your roof is water-protected, and using lumber ensures that you have a sturdy garden shed.
You can always contact more than one supplier or wholesaler to compare quotes. By doing so, you'll be able to pick the best materials for your budget and construction plans. Remember to prepare your area after you've measured it, as a good garden shed starts from a sturdy foundation. By following all these tips, you'll be able to build a garden shed that can be used for years to come.