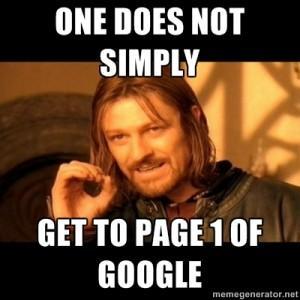 Do you remember the Nirvana hit from the '90s, with lyrics, "Here we are now, entertain us!" 
Whether you do or you don't, this fact is true – people want to be entertained.  And especially when they come to social media, while they like to receive value, they also often want to be entertained in the process.  And if you can combine the two – value and entertainment – it's even better.   
This is why one of the most shared forms of content on social media is the meme. 
For those who are new to memes, they're usually images paired with text that is a form of ironic humor. And the true test of a meme is that they tend to go viral quickly.
The fact that they go viral quickly is exactly why they are so useful within the context of content marketing.  They're typically funny, and more than anything, people love sharing a good joke! 
Just as a test of a meme's power, we posted one yesterday on our Facebook fan page.  In just about a day (a little less; we put it up mid morning; this was written around 9PM), it had been seen over 1200 times making it one of our more popular posts for sure.
The other thing about memes that makes them a great form of content for your social media profiles is that they can be created super simply, no matter how good you are with graphics (or not). 
Of course if you are handy with Photoshop, grab a photo and your sense of humor and start creating!  Otherwise, if you're new to creating memes and don't have graphics software, you can create them for free at sites like Meme Generator (note that some of the current trending memes that can appear on the front page can be a bit crude; we're not endorsing that, of course).  You can pick from a variety of pictures from current culture or movies, for instance. 
Creating the wording for your meme can feel awkward at first – but one of the things that helps is to get familiar with your subject.  The more familiar you are the better; just like any kind of "inside joke" about a subject.
Try out a few different wording variations and ask for some feedback from people you know and whose sense of humor resonates with you.  If they find it funny, your audience is likely to be also.
Take the time to look at different memes – a lot of them.  It will help you learn the formula that it takes to create the memes that become the most popular.
How to Boost Your SEO Using Memes
Because of their viral nature, memes can be fantastic to boost your SEO.  When they spread far and wide, the likelihood of you getting links in from a variety of sources is increased.  Spreading humor and knowledge at once – you can't get much better than that!
Okay – your turn.  Have you ever used a meme to boost your SEO and get more backlinks?  If you haven't, I challenge you to try it today!  Come back and leave us a link below when you have!