In
Wiktionary.org
, the comeback kid is "a person who repeatedly demonstrates the propensity to overcome downturns or periods of bad publicity and rebound to victory or popularity." In golf, the comeback kid has been related to Tommy Fleetwood, Patrick Cantlay, and Rory McIlroy for rebounding after trying circumstances during a tournament.
After nearly five years on the European Tour without a win,
Paul Casey
finally broke through and has now earned the title! Rolling in two clutch birdies on the 16th and 17th holes on Sunday at the Porsche European Open secured Casey's win.
Overcoming adversity on the golf course or coming from a stroke (or more) back may be easier for the tour pros but not so simple for the average golfer.
Although not everyone has the longest drive or can make all of their GIR's (greens in regulation), golfers
can
learn to master the art of putting. Almost any golfer can learn to putt well to save the hole.
(How many times have you breathed a huge sigh of relief after sinking a long bogey putt?)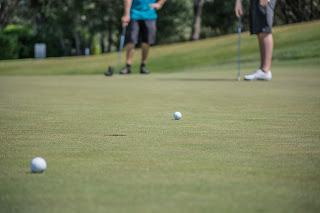 Here are a few tips to help you assess your round, stop the slippage and use your putter to be the comeback kid on the golf course.
1. Visit the practice green before every round and roll a few putts to get down the speed and see the line.
2. While practicing, try to get within the "
circle of trust
" near the hole.
3. "Think Roll, Not Hit" - according to
Dave Stockton
, this mental golf tip is the key to distance control while putting. The two main thoughts surrounding putting are speed and line - you get the idea behind distance control and you are halfway to being a better putter.
Let's end this golf blog with a few statistics. Short game guru
Dave Pelz
states that "putting accounts for approximately 43 percent of your total strokes." Both putting and chipping account for "fifty percent of shots are hit within forty yards of the hole," according to GolfStateofMind.com.
I will leave you with this great putting demonstration by way of Phil Mickelson on Twitter. Enjoy!
A little taste of Augusta. Spending all week putting on my green with speed at 15.6-16😎⛳️ #Lefty pic.twitter.com/GprpRJCXTB — Phil Mickelson (@PhilMickelson) April 5, 2019