GR: Individual activists are important spark plugs for nature conservation and wildlife protection. Here's a great example.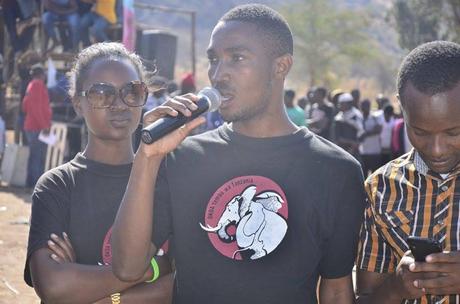 Shubert Mwarabu promotes the grassroots campaign to save Tanzania's elephants at a festival in Iringa, in the southern highlands. PHOTOGRAPH BY MOHAMED MVUMBAGU, FEMINA HIP
"Until Shubert Mwarabu saw a photograph of an elephant with its face hacked and bloodied, poaching was an abstraction. He didn't know anything about ivory trafficking, or even what ivory was used for. That was in 2011, and the Tanzanian musician was 25.
"The photo had a powerful impact on him, and from then on, he says, he threw himself into the fight to save Tanzania's elephants.Mwarabu, who previously had organized clubs in primary schools for advocating against child abuse, now started school conservation clubs. He composed songs about protecting elephants. His first, called "Let's Talk About Poaching," or "Tupige Vita Ujangili" in KiSwahili, was played on Tanzania's national radio station.
"His efforts have been noticed in Tanzania and beyond. The California-based nonprofit Generation Awakening, which works to support young environmental activists, appointed him their first country ambassador.
"In October 2013, Mwarabu launched a one-man campaign, naming it Me Against Poaching, to show that change can come from a single person.
"Now he's leading the first organized citizen campaign to lobby the Tanzanian government to halt the ivory trafficking that has made this East African country ground zero in the slaughter of Africa's elephants. Okoa Tembo wa Tanzania, "Save Tanzania's Elephants," succeeded in making conservation an election issue in the hotly contested presidential race, Mwarabu says." –Maraya Cornell (How This Tanzanian Musician Made Ivory a National Campaign Issue)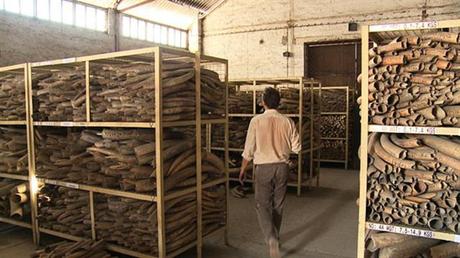 WATCH on the original post: A video aired in 2013 shows investigative journalist Aidan Hartley attempting to gain access to a maximum-security warehouse in Tanzania that holds perhaps the world's largest cache of raw ivory. Maintaining this stockpile is expensive. Moreover it can't legally be sold. So why not follow Kenya's example and burn it!