This week both the WGC Cadillac Championships and The
Puerto Rico
Open are being hosted by the one and only
resilient
Donald Trump at two of his incredible golf courses: "The Blue Monster" at Doral and Trump International.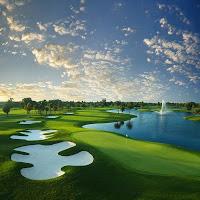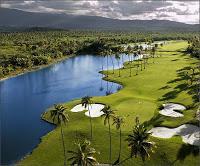 It is truly difficult, it seems,
not
to watch news of Donald Trump everywhere you look nowadays...
A Google Search finds him as popular a sight in the WWE (where he will be inducted into the Hall of Fame) to his recurring (and prolonged repetitive) show, The Apprentice.
This week, Trump does double-duty at two golf extravaganzas and, with it, invites almost all golfers with a tour card to "be his guest."
Okay, neither Doral nor Trump International are Disney-land but, to fans, they might as well be!
Two full field events with the top golfers in the world providing ample opportunities for birdies and bogeys,but (in my opinion) with the WGC Cadillac Championship getting the viewing edge as Tiger Woods and
Rory McIlroy
go head-to-head once again.
Also, with news of The Donald's plans to "blow-up" The Blue Monster in order to make it a "much more magnificent course" as Mr.Trump stated, will fans want to get in one last look for comparison's sake?
Tale of the Tape: Trump International vs Doral Golf Resort's Blue Monster via Twitter:
Current Posts about this week's events at both Trump International Tweets and Doral Golf Resort's Blue Monster show many more conversations about WGC-Cadillac Championship at Doral than Tweets about Puerto Rico Open. Here is a sample:
Remember: @blaynebarberau (2nd @puertoricoopen) DQ'd himself from Q-School after advancing to 2nd stage. Story: pgat.us/6016ndHo
— PGA TOUR (@PGATOUR) March 7, 2013
My interview w/ @nbc6 re: @cadillacchamp & my $200M of future renovations invested in Trump @doralresort bit.ly/VDDywJ
— Donald J. Trump (@realDonaldTrump) March 6, 2013
Played the Blue Monster @
doralresort
? Here's a photo guide of what Tiger, Rory & co will be facing this week –
on.fb.me/WWmJyK
— Your Golf Travel (@yourgolftravel)
March 7, 2013
It's a beautiful day for the @cadillacchamp! twitter.com/DoralResort/st…
— Doral Golf Resort (@DoralResort) March 7, 2013
Add Your Twitter Voice to the Conversation @Golf4Beginners and friend on Facebook.
picture credits: Oneeyeland.com, Trump.com ,