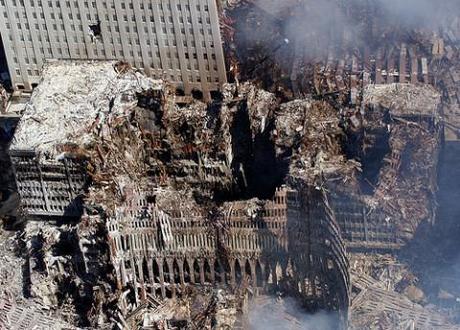 Ground Zero, New York City, N.Y. (Sept. 17, 2001). Photo credit: slagheap
Neocons still stuck in the mud. It has largely been left to members of the Bush administration to defend the hugely controversial War on Terror which followed hot on the heels of the 9/11 attacks. Alan P. Henry of The Chicago Sun-Times examined Dick Cheney's recent memoir, In My Time, and found the former Secretary of Defence to be almost entirely unrepentant. Guantanamo Bay remains in his opinion a necessary measure: "It has been the case in every major war in which the United States has been engaged that we hold enemy combatants for the duration of the conflict." "There is no repentance here. Rather, there is unapologetic support, not just for specific policies, but for the ideals and philosophical constructs buttressing their enactment," observed Henry.
9/11 changed Western foreign policy. However passé Cheney opinions may sound today, Charles Moore argued in The Daily Telegraph that, "If you look at Western politics 10 years on, you will see that the successor governments have repudiated much less of the Bush-Blair policies than their rhetoric suggests." US President Barack Obama, he pointed out, ordered the surge in Afghanistan and British Prime Minister David Cameron recently engaged in a spot of "liberal interventionism" in Libya.
Lessons have been learned. There are many who feel that, rather than simply re-hashing old policies, new governments (and the populations they govern) have actually learned valuable lessons in the decade since 9/11. Daily Dish blogger Andrew Sullivan struck a stentorian note at The Daily Beast: "We have survived and endured as a civilization because we have recognized our errors and corrected most of them." The election of Obama, and the use of "new methods like drone warfare" are proof of this new wisdom. Obama's election is also seen as a watershed moment by Gary Younge in The Guardian, who wrote, "internationally Obama's victory marked the country's belated, more nuanced, more enlightened response to 9/11, signalling America's readiness to meaningfully re-engage with the rest of the world and the treaties that govern it."
How little we have learned in the past decade. However, cautious optimism by no means forms a consensus. Paul Theroux, writing in The Daily Telegraph, agonised over "how ineffectual we have been, and … how little we have learned in the past 10 years." The West is still largely ignorant of "what causes anger in Muslim countries," and, to compound the problem, "the Iraq adventure has been disastrous, Afghanistan is unwinnable, pacification is further off than ever, and we seem to be bankrupting ourselves."