Today, I'm excited to host my first guest blogger. He is Ai Iqbal and he is the CMO of EdgeLogics.com. You can follow him on  Google+, Twitter & Linkedin.
Population of social media is increasing tremendously. Almost every business in our surrounding is using social media platforms. Some of them are getting excellent customer response and acquisition while others just missing the core concept of social media. Social media is not such a thing, which may suite some and not others and it is not a luck by chance, either. People who are enjoying the crunch of social media have put a lot of stuff for their audience to engage them and gauge their interest on specific items/products. It is hottest trend of these days and people are using it just for fun, being in touch with old friends , relatives as well as customers.
Today, I am sharing details about "how small business can use social media to grow" in quite simple ways. Every day we are in need to search a query and the search engine platform is none other than Google, bing and yahoo. And when we search a query, search engine shows several search results including information regarding basic definition, topic discussions, recommendations, questions, answers & suggestions. People these days frequently check topic discussions, answers and recommendations which could not be find other than a blog. Blog has more convincing power than other mediums because usually real people are talking and posting comments on the blogs regarding their experience to a specific topic, questions, , answers and references to proof. So, blogging is very powerful medium to engage audience and get their feedback.
Make a Blog:
Blogging is a simple way to attend or engage with audience and drive them in your way. One may have done it by following few simple steps.
First of all, know your niche and target market with respect to demographics and geographical area. For example, if you are an agent of an air traveler agency, you may have to find different blogs on which people are talking about the service level you are offering, prices, promotions and complaints about the airlines. You may start right there by Signing up and start engaging with people by answering their questions or by posting your review or if you find a reference then quote it. Finding correct answer by your clients could gain higher level of trust and there are higher chances that they become your customers. Try to answer them wisely at your earliest and also ask them question(s) to get their feedback and attention. In other words you are making your worth by delivering the value.
Try if you can buy a domain name specific to your brand name, so if it expands on internet, it will increase your brand value and also show up in top pages of search engines e.g; Google. Once you have finalized blog name, you have to post several articles which should not be copied & pasted rather it should add some value to your audience and cover your branding services. There are millions of blogs on internet but who has the bigger voice? Of course, it will be the one who guides the audience on the way they are looking for and build their trust. Most of bloggers have contracts with freelance writers who write blog article for them. But quality of article should not be compromised due to any reason. Previously many blogs are buying low price articles like $3 which will not only devalue the overall blog contents but also losing engagement with them. I would suggest you to write articles at your own because in reality you will know the real value of your blog and know the level to deliver to your audience.
Social Media:
Once you are done with blogging, grow your business using social media networks. People are using social networks like facebook, twitter, linkedin, g+, pinterest, stumbleupon and tumblr to get their voice heard on a global level.  Number of people on these networks are growing very fast, as they do understand the power of so called, "Freedom of Speech". The whole process of sign up on anyone of them is very easy. While adding your information regarding yourself or your company, make sure it is real. Do not put wrong information to make your customers confused about yourself. After signing up, create your profile and company pages on facebook, google+, linkedin and twitter.
After posting your article on your blog, share and spread it on all of these social media networks. Facebook is leading in social media active users, pipeline for 2013 with 1.19 billion while google+ took 2nd place with 540 million with increasing trends. Find below Infographic from dustn.tv showing number of active users on social media in 2013: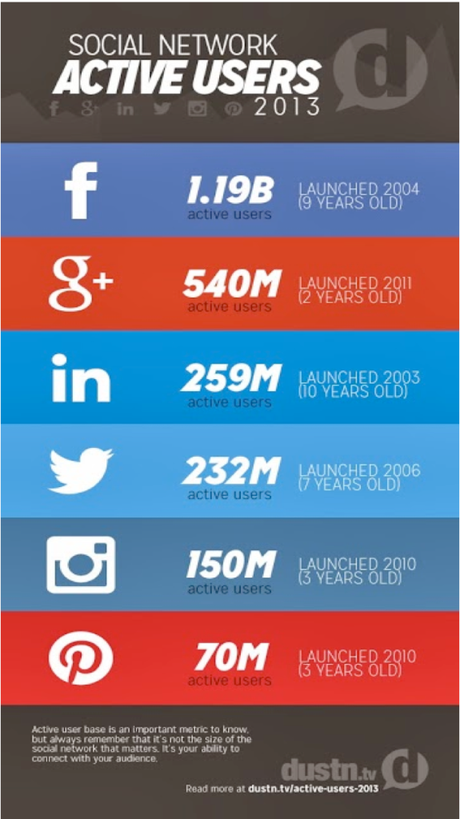 Image Credit: http://wirews.com/social-media-spec-guide/
Facebook:
Signup on facebook and create company page there. Every time you post information on your blog, share it on facebook. Newbies have lot of problems in getting likes and shares of their posts. But don't worry, it will take some time to build your worth. Friends could be very good assets on facebook, invite/add them on your facebook and ask them to like your company page and spread the posts. This will be the first step to market your services or products. Just in few months, it can become more like a fan-club, where people would be talking about you and what your services are! Quality material you deliver, works like a magnet to attract people who definitely get benefit from it. If they think it is useful they will take no time to spread it with their friends. Your post will be valuable to your audience which they will use to increase their credibility. People on facebook are easy to engage, just like and comment on their posts actively and in return they would also like yours!
To increase popularity, expand your facebook network by available marketing mediums you are using for your business. Most of small business used facbook ID on their Visiting cards, Shop banner, Pamphlets, Buntings and any other media they are using for advertisement. They are also using it on Mobile SMS marketing campaigns. Using facebook ID in these channels will be more likely to increase your popularity and presence on internet and increase page likings and sharing which will convert a visitor towards a customer. Follow below spec sheet () to standardize your profile on facebook.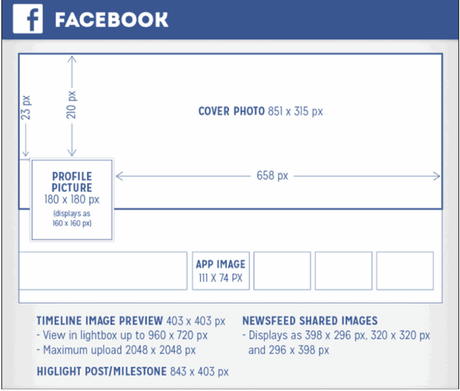 Image Credit: http://wirews.com/social-media-spec-guide/
Google+:
Google+ is quite a sophisticated platform and most of professionals are leaving facebook due to high rush out there and fake users, and have started joining google+. It has diversified social media with different features compared to facebook, twitter and linkedin. Google+ offers industry specific hangout on air – interesting huh? , communities and attractive pages to engage more and more people every day. Discussions and comments go long on google+ too and they will grab your attention with every "+1" sign.
Using hangout on google+ could really boost you. A video of live conference will always have more impact, regardless to a post discussion in written. It includes brief introduction about you and detail of topic you are briefing about. And at the same time people are more open to ask question and if you convinced them then they will follow you, listen and spread your voice. You can add many people in your hangout to spread your voice. If you have capability to engage more people with video conference then you should use google+ handout on air.
Google do check a searched query on google+ too and highlights in search results, so, using Hashtag (#) when posting a post on google+ will facilitate you to get ranking & clicks from google pages directly.
Follow below spec sheet to make your profile on google+.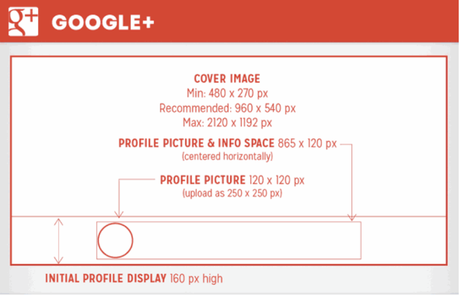 Image Credit: http://wirews.com/social-media-spec-guide/
 Twitter:
Twitter is second largest network on social media to spread the contents. It includes followers and following categories. Follower is the one who is following you and will get your tweets (Twitter's 160 characters message). Following means people to whom you are following, you will get their tweets. Please do the following things prior to send a tweet to make it more effective.
Follow popular people in your market and follow their followers so they follow you back then you can easily share their desired contents.
Use Hash tag (#) with popular words from your business domain, in your message, so it will also be shown when people search a query relevant to you message. And if they find it interesting/useful they will retweet it.
If any of your followers ask question(s) do answer it asap by using "@".
Get involved with others tweets by clicking "Favorite" button.
Ask from experts regarding your post, they will answer you back and if they find it useful they will definitely go for favorite it or share it with their followers. This will have a drastic impact on your posts, profile and appreciated links.
Engage with people by follow back and thanks message.
Many people saying that a tweet life is almost 20 second, it will be more readable and actionable only when your followers are online. So, check your tweets growth in different timing and send a tweet when maximum of your followers will online. You may use various tools to do that, SocialBro is one of them!
Below Spec sheet will help you to standardize your profile on Twitter.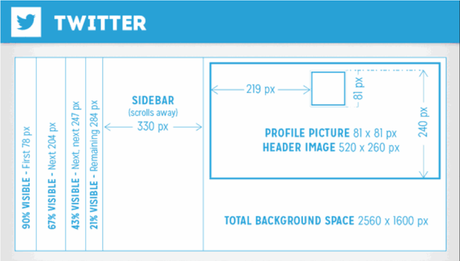 Image Credit: http://wirews.com/social-media-spec-guide/
Linkedin:
For me, networks like LinkedIn and Twitter are like giant of professional networks on social media. Don't be shy and stand in the corner, go up to people, introduce yourself and start a conversation, then exchange business cards and move on. What works well for Twitter is to simply follow people you find interesting and would like to connect with. I find that many of the people I follow will then follow me back – maybe out of politeness but hopefully out of interest!
Simply type relevant terms into the profile search to find relevant people with respect to your industry. On LinkedIn, it is similar only that people have to accept your request to connect. Again, search for people in your industry (using company names, profile key words, etc.) and then send them a customized invite. Stay away from the standard invite. Getting a personal invitation request with an explanation of why a person would like to join your network usually works and at least tells you that they are real. Make sure you don't add plenty of professionals you don't know so fast, because LinkedIn has such algorithms which can track you down and there is a possibility to block your account. Which means you may lose everything on that profile.
Join different groups on LinkedIn, specific to your industry also helps in growing your network. Do actively participate in discussions to connect and follow related connections and groups.
Have to say anything or add something; please submit your thoughts in comments.