The button-up shirt is a a must-have in all men's wardrobes.It is simple, functional, versatile and gives any man an edge! This being said, many men have trouble choosing the right shirt for them, but we want to bring some light on the matter and spread the thick clouds of confusion.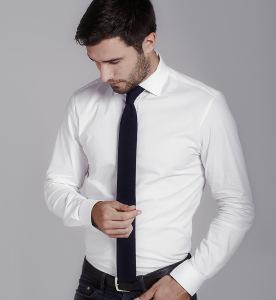 This Simon + Simon shirt is a good example of how a shirt should fit: not too tight, but not too loose.
In this article, we will walk you through all the things you should know about shirts and the way they should fit. We will look at the big picture, but also at the details, s that you can be sure you buy a perfect shirt the next time you need to go shopping!
We have broken the guide down into sections, so that you can better memorize it and make the best of it! We'll start with the cut and end with general tips and tricks!
Cut
Traditional fit shirts are usually cut more like a square, or a box if you will and are rather standard-looking.
Regular fit shirts are usually similar to traditional fit shirts, just that the sides are more tapered.
Slim fit shirts are usually tailored in the chest, waist and arms for a leaner, sharper look. This has nothing to do with being slim as opposed to large. There are also "extra slim" shirts, which are a more extreme version of slim fit shirts.

These are the main types of cuts, and you will sometimes find them under another terminology, but the concept is basically the same.
If you are looking for amazing fitted shirts, we highly recommend you the Simon + Simon brand, which offers fantastic shirts which we love because they are well-fitted, but also leave room for movement. The simple yet sophisticated design makes them very versatile and appropriate for several occasions. In our opinion, all men should own shirts that they can count on at any time and we think that these shirts can fit (pun intended) the taste of any man!
Length and sizes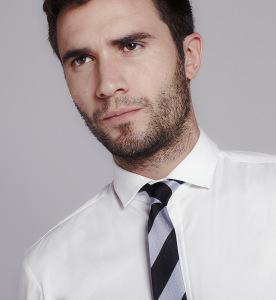 A wonderful fitted shirt by Simon + Simon
Shirts are usually supposed to be tucked in your pants, so the lower part won't be visible most of the time. It is supposed to be long enough so that it doesn't come out of your pants when you move, but it should be short enough so that it does not feel like a second pair of pants. If you decide on wearing a more casual shirt and keep it untucked, it should not go lower than the bottom of your pants' zipper.
The problem with shirts is that most guys buy shirts that are made in standard size, thought to fit the majority of the population. This can be an issue, as if a shirt should fit a very wide range of men, it means that it does not fit almost anyone.
Next, we focus on what you should know about the body, the waist, sleeves and the neck and collar and pockets of a shirt. Once you understand this, the search for the right shirt will be done from instinct and this won't probably leave you any time soon.
Body
A good shirt should frame your body but it should not be skin tight. To see if it's to loose or too tight, try pinching your shirt at any point you wish. You should be able to pin about 1-3 inches / 2,5- 7,6 cm of fabric from your shirt. If you can pull more, it means that your shirt might be just too big, while anything tighter might make you very uncomfortable.
The armholes should be as high as they can go, but they should not cut into your armpit or cause any discomfort. Also try to lift your arms in order to test the armholes. You need to be able to make any movement in a shirt!
When it comes to the shoulders, the seams of the shoulder should simply hug your shoulders and lay at the corner of your shoulder joint.
Waist
A lot of shirts are too full around the waist, so make sure that when you sit down you don't feel any discomfort or that it doesn't simply add around in a bulky, unpleasant matter. If you can't find a shirt that meets all the criteria, you can always buy one that is a little bigger and have a tailor change it a little, according to your body.
Sleeves
Proper sleeves should be slim, so that you avoid billowing but they shouldn't be skin tight either. Try testing the tightness of a shirt by bending your arm. If you feel like it is going to crack, then you are wearing a too tight shirt.
In terms of length, the cuff is supposed to end 1 inch / 2,5 cm past your wrist or where your wrist meets your palm. Make sure that you can't pinch more than 1 inch / 2,5 cm of fabric near the cuff when your arms are hanging, this extra fabric is useful because it allows you to bend your arms comfortably. The cuff should be tight enough not to move down your hand, but you should still be able to feel comfortable.
Neck and collar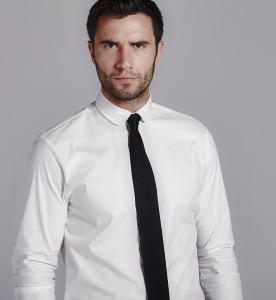 A shirt that fits well needs to fit well on all levels.
When your shirt is buttoned all the way to the top, there should be enough space for you to slip your index and middle fingers between your neck and the collar. This should be comfortable and you should not feel that your fingers are being pressed tightly against your neck. Remember that if the collar fits this way before you wash it, it might be too small for your neck, as shirt collars tend to shrink about ½ inch / 1,27 cm after washing. This is why you should go up half an inch in size. A shirt that is too tight from the start will not be wearable.
Normally, the collar's size should be proportionate to the size of the wearer's head. A good collar should be big enough to make proper room for a tie. Some shirts have smaller collars, but these are thought to be worn with similarly tailored suits, which play with proportions.
Pockets
When it comes to pockets, look at their number! Shirts that have only one pocket are considered more formal than those that have two pockets. Shirts that are supposed to be worn with vest or with suspenders should have no pockets. If they do, your chest might look a little bulky, and not in a good way!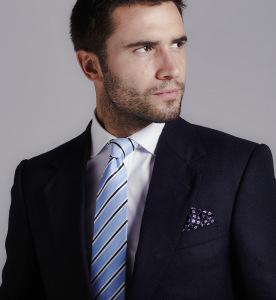 A great shirt can tremendously change the way you look in a suit.
Having a well-fitted shirt is very important, regardless of your size or body frame. Also, as an additional tip, if you want your shirts to last longer, you should opt for the right undershirt! Doing so, you will be able to save a lot of money and time! You should also know that most dress shirts are usually sold by neck size and sleeve length.
To get the best results, make sure that the shirt you are wearing is properly ironed!
Most guys will need to have their shirts modified by a tailor, but it's definitely worth it, as good shirt can improve your look a lot and go a long way in what's regarding your attitude and feelings about yourself! A right-fitting shirt will make you feel like you're the boss!
Fraquoh and Franchomme
P.S. What kind of shirt do you like to wear? Do you have any additional tips regarding shirts? Share your comments in the space below!