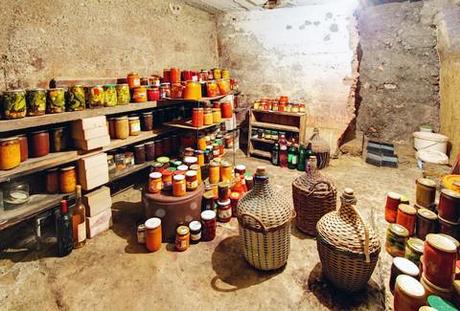 Even in a house with more space than you'll ever need, it seems like you'll still end up filling it with furniture, decorations, and stuff, stuff, and more stuff. It's the product of living in a consumer society. But whether you live in a mansion or a loft, you'll find that prepping requires some dedicated storage space for food and water, as well as a slew of other necessities. If you have a lot of space to begin with, you may have an easier time clearing out some of the clutter and making room for your stockpile. But those who live in smaller residences, where storage space is at a premium, may have limited options. And while you could always convert a bedroom or utilize your garage for this purpose, you may actually need those spaces for their intended uses. Luckily, there are dozens of ways to make better use of the limited space you have. Here are a few tactics that could yield additional storage for prepping, or at least make the most of what you have available.
Organize the Storage You Already Have
Sure, you can pile and shove more stuff into any given storage space, but without organization, you're going to face several challenges. For one thing, disorganized clutter probably means you don't even know what you have and/or you could have difficulty reaching specific items. You could end up with untold waste as items expire or because you buy more of the same items unwittingly. And if you fail to properly organize, there's a good chance you're not really optimizing the space you have. Effective storage requires organization, so if you can't manage it on your own, ask for help from a detail-oriented friend, family member, or even a professional organizer.
Add Shelving to Existing Storage Space
Say you have closets or cupboards that already feature shelves. If your storage space seems inadequate for your needs, take a look at the space you're using and the space you're not. If there's a lot of space between whatever is on one shelf and the shelf above it, perhaps what you need is more shelving to make the most of your dedicated storage, especially if items don't stack well.
Look for Wasted Space
Believe it or not, there are all kinds of empty spaces in your home that you probably pass right over without a second glance when you're searching for a place to store items. If your bed is on a frame, there is space underneath. There is also space beneath other furnishings. If you don't want to put food or other prepper gear in these spots, consider getting bins to store items like clothing, shoes, and linens under furnishings so that you can devote closet or cupboard space to preparedness storage. You can even convert items that are taking up space (like luggage, for example) into storage compartments.
Look Up
People always seem to forget about unused space overhead, and there are a number of ways you can use it. For example, you could put drop-down storage ceilings in your garage, basement, or attic space for additional storage options. Or you might install floor-to-ceiling built-ins, or simply line the upper third of your walls with shelving. If you don't like the idea of displaying your prepper items, move other things to exposed shelving and place your preparedness goods in closed storage.
Build Out Unfinished Spaces for Storage
Your attic, basement, garage, shed, crawl spaces, or other unfinished spaces might not be suitable for prepper storage due to temperature and humidity fluctuations, exposure to pests, and other less than ideal elements. But finishing out these spaces with proper insulation and compartmentalization could make them perfect for prepper storage.
Eliminate Unnecessary Extras
Unnecessary items taking up the space you need is the real problem you have to contend with when seeking more storage space. For this reason, it's important to go through all the stuff you've accumulated. Then, be honest about what you really need and what can be donated to someone who needs it more than you. Sure, small appliances like popcorn poppers and waffle irons can be fun once in a while, but think about how much you use them and whether or not you can find alternatives that take up less space. Paring down to the essentials can help you clear the storage space you need.