Our Golden Lab, Maggie was born with hip dysplasia and as a result of that she has developed arthritis in her joints.
Although surgery wasn't an option for her, we have maintained her condition by keeping her weight on the lower side and making sure she gets regular exercise without over doing it.
Having just turned seven years old a few months ago we have noticed that she is moving a little slower, whether she's getting up after a nap or climbing the stairs - she definitely does so at a slower pace.
Last month we were given the chance to try out a hip and joint supplement for Maggie and we thought this would be a great time to offer her a natural supplement and see if we notice a change.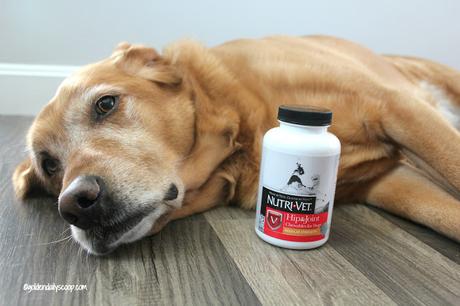 This post is sponsored by Nutri-Vet® and the BlogPaws® Pet Influencer Network™. I am being compensated to help share Nutri-Vet products but we only share information we feel is relevant to our readers. Nutri-Vet is not responsible for the content of this article.
Nutri-Vet® offers a wide variety of unique, veterinarian formulated animal supplements and complementary external products that promote health and well-being in dogs and cats. They ensure that every product meets company established specifications and each component or ingredient can be ultimately traced backed to it's source. 

For the past 30 days, we have been giving Maggie the Nutri-Vet Hip & Joint Chewable Tablets. We give her one with her morning meal and one with her dinner meal.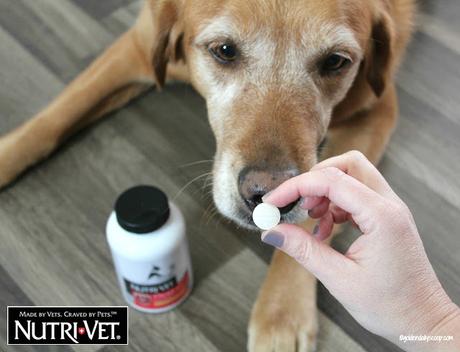 She loves the liver flavor chewables so much that she thinks they are a treat just for her and will even do tricks for one. I love how easy they are to give her, no pills to try and stick down her throat or hide in a treat.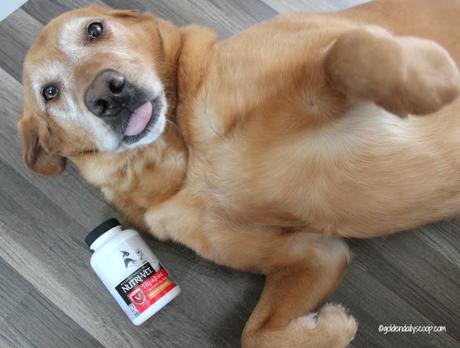 Sophisticated formulas combined with innovative delivery systems and high palatability profiles have positioned Nutri-Vet as the leading provider of natural animal products in North America.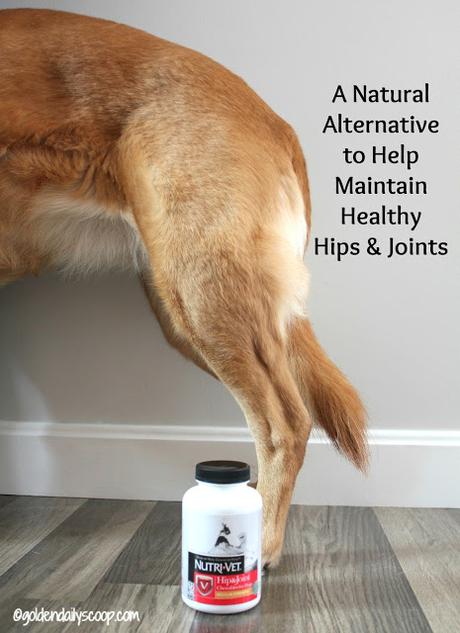 These chewable tablets are regular strength which provide 500mg of glucosamine, 100mg chondroitin and vitamin C and 10mg MSM to help maintain healthy canine joint function and connective tissue. 
Ingredients That Help Maintain Healthy Hips & Joints
Glucosamine HCL
is the key building block for making cartilage. Recent reports in veterinary journals have validated the benefits of glucosamine in maintaining joint health and supporting mobility and activity in dogs of all ages.
Chondroitin Sulfate
protects existing cartilage and slows its break down.
Vitamin C
(ascorbic acid) is important for the formation of bone and cartilage.
Manganese, Copper and Zinc
are essential in biochemical reactions that help form cartilage.
Maggie's Results
Just in the past week I have noticed Maggie going up the stairs more freely, usually she would pause half way up before reaching the top. She loves following me downstairs to do laundry and such so this is a huge plus! 
I believe in treating ailments and maintaining my dog's health as naturally as possible and I'm so happy I can do that with Nutri-Vet, my only regret is that I didn't start her on this supplement when she was younger.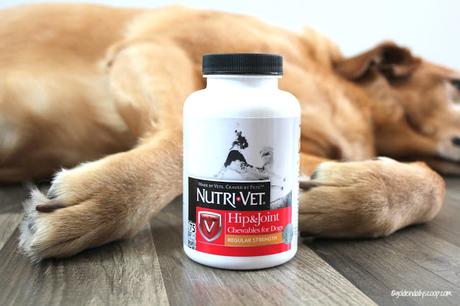 Nutri-Vet offers a full line of supplements and topical products for dogs and cats with an unconditional 100% Money Back Guarantee. They offer both natural and holistic products that are made with the highest standards of quality and consistency and validated by independent testing.
Sign up for the Nutri-Vet Newsletter to receive exclusive offers, coupons and sales alerts. Join their Facebook Page for supplement information, giveaways and a fun community that loves dogs and cats.
Connect with Nutri-Vet Facebook | Twitter | Pinterest | YouTube
Enter The Giveaway Below for a Chance to Win a Bottle of Regular Strength Hip & Joint Chewables!
a Rafflecopter giveaway
This is a sponsored conversation written by me on behalf of Nutri-Vet. The opinions and text are all mine.