I have come to realize that I belong to that unfortunate category of people who cannot get any of their official work done without a couple of hiccups. The last time it was the passport office,

about which I have written earlier

, this time it was the Public Vehicles Department office at Kolkata.
While I know how to drive a four wheeler, I have not yet procured a license to drive on Indian roads legally. So I restricted myself to drive on lanes instead, trying to avoid hitting anybody on the road. Only once did I brought someone's door down to it's knees (so what, no one was hurt... and it was a long time ago). Being a nomadic soul (because it sounds so awesome instead of 'transfer ho gaya'), I have never really been in one particular place for long, and so I never realized the need to get a license there. But now I do. I need to get it done as soon as possible, as I have some spare time now and prospective reasons, such as road trips and weekend escapades!
I took out my planner and drew upon a timeline. I have about four or five months to spare. Plenty for the job.
Apply for a learner's license -

check.

Procure the learner's license -

check.

Practise, maybe? You-the-champ already...

A month from the day, apply for the driving test -

check.

A week later, maybe two, receive your driving license -

check.

Immediately after, apply for the international license -

check.

Give or take a month's time - stay calm, this is India!

Receive the international driving license -

check.

Join Red Bull Racing-Renault..

check.
So that was the timeline.
With high hopes, I went to the Road Transport Office, only to learn that it has been recently dissevered. The office that I was supposed to go to now, was quite far away. I didn't know how the office that dealt with applications from the constituency that I resided in, could be more than 20 kilometers away from the place! Sad, as it marked a day of delay in my so-called timeline.
Next day, I went to the place and spoke to the officials. None of whom could give me a straight answer as to what was the correct procedure. It was my mistake, of course. I should've checked on the internet or I should've asked someone else. I mean, come on, how can I ask the officials who were busy smoking consecutive packs of cigarettes, gossiping about a certain woman, glued to the chair by their asses, frisking through the pages of an old register notebook, huh?
After a complete research on the internet, I filled up form As and Bs and Cs and with a medical report to accompany the forms, I revisited the office a week later. The shrubbery outside the office was being cleared by the municipality and I looked 
alarmingly 
at the large dust cloud that rose from the hullabaloo. I finished my application procedure that day, as they asked me to come some other day for payment.
'What's wrong with paying it now?' I enquired.
'Mondal da is having his lunch. And he doesn't sit at cash on a full stomach..'
'Why can't you do it then? Why should I come another day just to pay 70 bucks?! Can't we finish it today itself?' I pleaded.
To answer which, he threw me a single, silent, killer of a look. And we were done for the day.
I went back home, slightly dizzy. I'm allergic to dust and it didn't take long to fall sick subsequently. Then followed a week of high temperatures, splitting headaches, sore throat and episodes of blocked and running nose.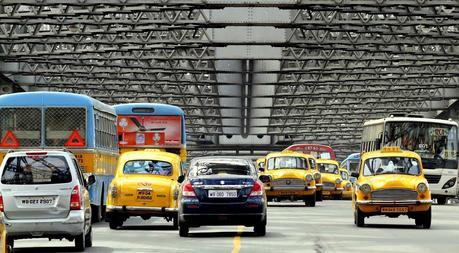 http://www.gg2.net/newImage/original/1352470033_Traffic%20in%20Howrah%20bridge.jpg
Before I went to the transport office next time, I made sure that I had mutilated, shredded and torched my planner. And while it's ashes blew in the howling afternoon breeze of Kolkata, I was being howled at and was being asked to stand in non-existent queues and to seek the help of non-compliant officials. After spending a good 3 hours in the damp office, a man finally came to the counter - strolling leisurely, so as to seem like he was pulled out from a damn good joke being told elsewhere.
It took him only half a minute to issue the receipt to me, and we were done. A week later perhaps, I'll have the learner's license in my hand. Wishful thinking? A week later, I turned up to collect it.
'Go stand there, there'll be a test!' roared the officer.
'Wha-?! WHY?' I was struck with surprise.
It felt like college all over again. Surprise tests, quizzes and exams. My eyes teared up. I suddenly missed my friends. Whenever the professor would come in and destabilize us by announcing a surprise test, we would first see how it would be taken. If it was everybody sitting together, then there was no problem. But if it were in batches and the prof had taken up measures to keep one group quarantined from the others, then more elusive and crafty steps had to be taken. Aah, the good old days! And here I was, without them. And they say there's a surprise test.
They were being so resolute on never letting me drive, ever! Was it the door-guy (one whose door I broke down), who had put them up to this task? My heart sank steadily.
I was called inside a room with a large wall, on which a number of road safety signs were painted. The test became clearer now. It'll just be those damned signs then. Piece of cake, after all!
They were calling applicants in groups of two as there was a large number of people in the queue outside. All kinds of people stood there, holding papers with didactic drawings and diagrams that their potential driving school instructors provided them, for this preliminary test. But they were trembling with fear. You see, most of them needed a license just to be able to drive a truck or a matador tempo that would help them win their daily bread. Quite possibly, this tiny test seemed like the IIT-JEE for them! There were others too. Seemingly, some people had suddenly discovered a car in their garage and because they found no other way to use it, they've decided to take it up for a drive - a prospect that would require a license and thus a place for them in this queue.
There also were two overdressed women in the queue, in line just after me. Their instructor was pleading them to read and revise the road safety signs again and again:
'Zig-zag to the left and Zig-zag to the right. Remember these, they are the most common question they ask!'
To which the women replied, 'I hab studeed nathing aptar college! Not eebhen een college! How can they ask aas all those questiaan, baba!?'
I was called at the desk along with one of those two women, and was asked to state my name and date of birth and was asked to produce an ID. Then they started by asking a question to the woman, 'What does the sign number 6 signify?' The woman thought and thought. Very hard, as I could obviously see. Then she made a purring noise, whistled and cried out in the most coyly way-
"O-maa, eet eez the DHIN-CHAK TO THE LEPT!"
I couldn't control myself. I burst out laughing, tears erupted from my eyes. A progressive pain stemmed out from under my belly, due to excessive laughter. But I couldn't stop myself. Dhin-chak to the left, oh God! I almost thought she'll do the 'thumka' on me as soon as she would complete the sentence! And if you had seen her (if I may mildly put), you'd know why I feared for my life at that prognosis.
What followed next was that I was heavily reprimanded for going berserk for a couple of minutes. I was repeatedly asked to stand upright, as I kept keeling over at frequent bouts of laughter. Having lived relatively quieter days in recent times, this was one of the funniest things to happen to me. Who could have thought that a road-safety sign - 'Zig-zag to the Left' - can be mistaken for a dance move!
I was asked to come back after a few more weeks to get my official learner's licence, a month after which I will be allowed a driving test. Maybe after that, they will bestow upon me the power to drive a car legally. Wishful thinking, still? 
Only time can tell.
Meanwhile, have a wonderful yet frugal Valentine's Day guys! Boys, remember to dump anyone who asks you to man up only on this particular day. Ciao!