BUT JUDGE, ONLY $1 BILLION???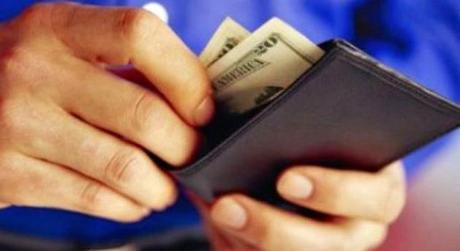 So have you heard the report about the divorce settlement that will be appealed because the wife was awarded only one billion dollars?
Really!
I don't know how anyone could be expected to live on such a paltry sum, do you?
On the other hand, according to one article I read, the husband ended up keeping the other 8 billion or so.  Do you think she was just being greedy?  Or is he the greedy one by keeping more than half?  Or, maybe both are greedy for keeping that kind of money when so many in the world are starving (which isn't saying that they don't also support good charities, I don't know, but even if they do, there is still lots of money left to be fought over).  
Some people will decide one or the other is way out of line, but ultimately, the judges will make the final decision, and the attorneys will stop by the bank with a big smile on their way home.

John D. Rockefeller was once asked asked how much money it takes to make a person happy, shrewdly replied, "just a little bit more."  Acquisition of money can become an all-consuming drive.  And there often comes a point at which it is hard to tell whether the person has the wealth or the wealth has the person. 




In a time of divorce, greed is but one of the many passions that can come screaming to the surface.  Sometimes the battles aren't really from greed so much as they are from a desire to inflict pain, to seek revenge or to just get even for all the grievances the individuals holds against their spouse.  Sometimes one spouse will fight tooth and nail to get a particular item for no other reason than to keep their ex from having it.  

They plan things for the children in such a way to make sure the other parent is excluded from the activity.  Within the circle of people I know, I cannot even begin to describe the kinds of things I know have been done in the process of divorce.  This kind of vicious battling that can take place was probably best depicted in the old movie, The War of the Roses," with Kathleen Turner, Michael Douglas and Danny DeVito.  People will do amazingly mean things in the process of divorce, and some of those things are very, very ugly and nasty.  Other people, cut loose from their marriage bonds, will go out and live as if there's no tomorrow and no consequences for their wild choices, sowing seeds of personal destruction without a second thought.  Divorce is truly a sad experience with all sorts of complicating outcomes.  Even in the most amicable divorces individuals experience difficulties they did not anticipate would be part of the process, and often the battleground is in the realms of money, possessions and, sadly, children.

I am a person who likes to go to estate sales and auctions.  My wife likes to say that individuals spend their whole lives gathering things they love, and then when they die, the kids sell it for a quarter in a garage sale!  As I have seen people's houses emptied and the items sold, it serves as a stark reminder of the fact that life is not made up of money and possessions, even if there are billions of dollars' worth.  I have heard it said that Jesus taught more about the way we handle money than any other topic.  I haven't tried to double check that, but it would make sense, as our earthly income is certainly one of the most absorbing issues we have to deal with.  An issue that can make us or break us in many ways.  It seems that the more we grab at to make our lives better, the less we actually end up benefiting as we get caught up in the rat race.  I have always appreciated something one of my professors, Maynard Hatch, used to say:  "The trouble with the rat race is that even if you win it, you're still a rat!"

Whether you are divorced or not, perhaps hearing about this couple battling over billions of dollars in their divorce could help you examine your own life to see what it is YOU value enough that you would go to battle for it.  The Bible is pretty clear that there are only a few things worth giving your life to, and earthly possessions do not make the list. 

Do the things you give your life to make the list?  

Perhaps the following quote might help you sort out your answer to that question: 

For whoever would save his life will lose it, but whoever loses his life for my sake will find it. 

-----Matthew 16:25