Is the art of Match Play lost on golfers in the U.S. or do we simply prefer every stroke to count?
In a recent GolfWeek article, Brits such as Ian Poulter prefer "the oldest form of golf" to stroke play because it boils down to "just me against the other guy rather than the rest of the field." Bubba Watson, on the other hand, believes that "it should be everybody gets up there and tries to shoot a score."
Even Tiger Woods and Rory McIlroy, after their first round departure from the WGC Accenture Match Play Championships, decided to "settle the score" in a match play format although the two games ended all square.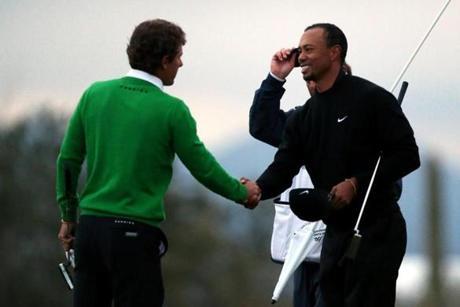 Amateurs should probably take a tip from Poulter, McIlroy and other golfers from across the pond and rotate a game of match play into their weekly foursomes. Where it is probable, at the end of a four-day professional tournament, that stroke play will ulitmately lead to the "best" player and score, the game is not necessarily all about score for amateurs. As Henrik Stenson said about match-play format, "It's very clear what you need to do...You just have to play better than your opponent."
Here are a few reasons to opt for a game of match-play golf instead of stroke play the next time you are out with your golf buddies:
1. There is a different psychological approach to Match-Play: 
* Less stressful throughout the game (until the end if you're dormie, for example).
* Seeing your score on the card in stroke format may cause you to count strokes instead of focusing on your shot.
2. Easier to score without having a scorecard.
3. Head-to-head competition versus playing for par.
4. A playing opponent can legitimately concede your putt.
5. Focuses your attention to the adventure of a single hole when standing on the tee box. Each hole becomes its own mini-game.
6. You can make match play more fun by adding a wager per hole (skins game).
Try Match-Play the next time you go out with your friends and leave Old Man Par in the Clubhouse!

As a postscript, in my opinion it is a shame that as of this article, the Sybase Match Play Championship will no longer be an event on the LPGA Tour.
Voice Your Opinion on Twitter @Golf4Beginners and friend on Facebook.