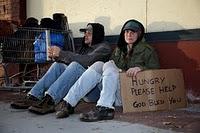 Read it and weep for our nation:
Outcasts: Tonight Tens of Thousands of Formerly Middle Class Americans Will Be Sleeping in Their Cars, In Tent Cities Or On the Streets
Excerpt:
Economic despair is beginning to spread rapidly in America.  As you read this, there are millions of American families that are just barely hanging on by their fingernails.  For a growing number of Americans, it has become an all-out battle just to be able to afford to sleep under a roof and put a little bit of food on the table.  Sadly, there are more people than ever that are losing that battle.  Tonight, tens of thousands of formerly middle class Americans will be sleeping in their cars, even though that is illegal in many U.S. cities.  Tens of thousands of others will be sleeping in tent cities or on the streets.  Meanwhile, communities all over America are passing measures that are meant to push tent cities and homeless people out of their areas.  It turns out that once you lose your job and your home in this country you become something of an outcast.  Sadly, the number of "outcasts" is going to continue to grow as the U.S. economy continues to collapse.
(click the "Outcasts ..." title above to continue reading)
.
Get Ready ... Seriously -- www.prepared.pro
Copyright 2007-2011 by Safecastle LLC www.safecastleroyal.com