Search engine optimization (SEO) has become a highly valued job because the internet is so important for connecting businesses with their customers and audiences. SEO is an important part of making these connections.
SEO, in a nutshell, is the process of getting more people to visit a website through natural search results. But not just any traffic will do. You need qualified traffic. After all, it doesn't matter how many people visit your site if they aren't interested in what it has to offer.
Because SEO is so important, it's not surprising that 64% of marketers spend time actively learning digital marketing techniques. Since there aren't any SEO degrees or set courses you can take to become an "expert," most SEO knowledge comes from hard-earned experience and, more and more, SEO certifications.
Getting all the training you need to do SEO well is hard, since you need to know a lot of different things. Look at our State of Content Marketing 2019 Global Report as an example. A good content marketer will have both hard and soft skills, like marketing, social media, strategy, analytics, etc (including leadership, deadline-keeping, and written communication).
What Is SEO Certification?
There are a variety of SEO certifications available from online services such as educational platforms, digital marketing agencies, and other organizations. Most of the time, you get a certification after passing an exam at the end of a course.
In addition to beginner SEO, competitive analysis, inbound marketing, advanced SEO, link building, and keyword research, you can get training in these areas as well.
Certifications can cost anything from free to thousands of dollars.
People who claim to be Google Certified SEO Experts are lying because Google doesn't offer any kind of certification for SEO. Google Ads, Display, AdSense, and Google Analytics can all be certified by the world's largest search engine. Some of this is relevant to SEO, but again, it's not an official SEO certification.
Google makes search algorithms and keeps improving them so that they work better. So, from its point of view, giving certifications for a practice that is meant to get the best results from its algorithms doesn't make a lot of sense.
Is SEO Certification Worth It?
Is getting an SEO certification worth it? The answer is, that it depends. If you already have a lot of SEO experience, clients, and proof of successful optimization, you probably don't need to hire an SEO company.
A structured SEO program taught by an expert in the field and followed by a certification test can be a good idea if you are just starting out or want to update your skills.
For the sake of appearances, you might find it too much work to acquire an SEO specialist certification. But if you want to learn more about specific skills and programs, it's a good way to market yourself to potential employers and clients and connect with other professionals in the same field.
Best SEO Certification Programs
Here are some of the best certifications for search engine optimization. They are given by companies and organizations with good reputations, after well-structured courses taught by experts and tests that make sure the candidate knows what he or she has learned.
This course is provided by HubSpot. As a leading provider of inbound marketing and sales software, HubSpot guides companies through getting traffic, converting leads to customers, and closing sales.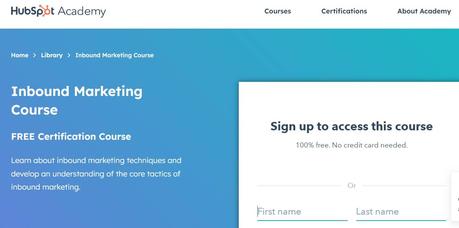 The course, which takes about 4.5 hours and has seven lessons, 34 videos, and eight quizzes, teaches inbound marketing techniques like creating content, promoting it on social media, converting leads, and keeping in touch with them.
Among the topics covered by these well-made videos are marketing strategy, conversion strategies, lead nurturing, aligning sales and marketing, conversational growth strategies, conversion strategies, customer marketing strategies, and inbound marketing basics.
This SEO certification course is best for: Novices who wish to gain a deeper understanding of inbound methodologies.
They have a wide range of online courses and exams at Semrush, depending on what you want. The Content Marketing and SEO Fundamentals Exam is a good place to start because it helps you figure out what path you want to take through the rest of the courses.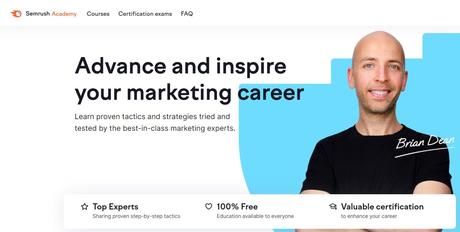 This course sets the stage for more advanced training through the Semrush Academy in a number of our areas of expertise.
You should also take a look at our SEO Toolkit Test. The 14 video lessons, which take about three hours to watch, are split into three parts: Learn, Build, and Measure. In addition to the video lessons, participants also have access to SEO tips from experts and can read more to learn more. After the course, they can take the certification exam, which has 23 questions and lasts 27 minutes.
You can keep learning more about Semrush by taking more courses, and you can also try to get other certifications, such as ones for advanced Semrush toolkit users and digital agencies.
The SEO certification course is recommended for: beginners as well as intermediate practitioners who want to improve their SEO skills.
ClickMinded, which runs this paid course, is run by " digital marketing experts." The course claims to have helped 8,702 startups, entrepreneurs, agencies, and students "rank higher and get more traffic." They promise to "triple your Google traffic."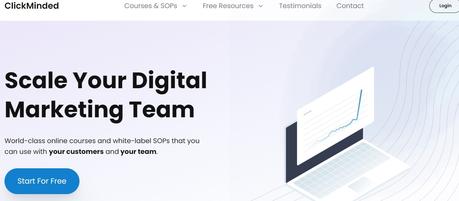 Aside from an introduction to use SEO tools, the training includes the basics of SEO, keyword research advice, an introduction to the Google Search Console, and using the ClickMinded Search Framework to search on any search engine such as Quora, Google, Amazon, Yelp, Pinterest, YouTube, etc.
It ends with a certification exam. As part of its training program, ClickMinded offers courses on content marketing, paid advertising, email marketing, sales funnels, social media marketing, and web analytics.
This SEO certification course is best for People with no technical experience who want to learn how to optimize websites for search engines.
Cost: $997 is the cost for this course; $2,997 for all 7 courses with ClickMinded.
This advanced analytics course is part of the Google Analytics Academy, which offers several analytics courses, including SEO certifications.
The course goes over how data is collected and turned into reports that can be read, as well as using configurations such as Custom MetricS, Custom Dimensions, and Event Tracking to collect company-specific data. Using segmentation, channel reports, audience reports, and custom reports are more advanced ways to analyze data.
The course also talks about marketing techniques like remarketing and dynamic remarketing, which involve showing ads to customers who have already been to your website.
The four lessons are about collecting and processing data, setting up data collection and configuration, using advanced tools and techniques for analysis, and using advanced tools for marketing. The course takes between four and six hours to finish.
The goal of the Google Analytics for Beginners and Advanced Google Analytics courses is to help students prepare for the Google Analytics IQ (GAIQ) test.
This SEO certification course is best for: SEO practitioners with some experience but who have not taken Google Analytics for Beginners yet.
Google Digital Garage has a number of online courses, including one called "Fundamentals of Digital Marketing." These courses teach people about digital marketing, data and tech, and careers.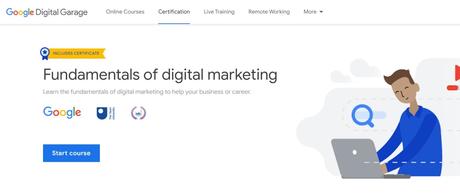 This course is made up of 26 modules, and it takes about 40 hours to finish. After finishing a 40-question exam, you can get a certificate. The Interactive Advertising Bureau Europe and The Open University both agree that the course is valid.
Each learning module has a short video tutorial and a short quiz at the end to test what you've learned. Analytical and data insights,content marketing, business strategy, display advertising, e-commerce, email marketing, search engine marketing, video, SEO, social media, and other skills are learned.
This SEO certification course is best for People who are new to marketing.
6. An advanced course in search engine optimization (SEO)
Internet marketing training company Market Motive offers this advanced SEO course to help you "master the process of driving traffic to your website in a natural way by learning key parts like keyword research, search engine optimization, and analytics."
The course is offered as both self-paced training and an online boot camp. It is designed for marketing managers, digital marketing executives, entrepreneurs, content writers, engineering, marketing and sales professionals, management, and business communications graduates, and business owners.
Some of the most important parts of advanced SEO training are the 30+ hours of videos that you can watch at your own pace, the more than 15 hours of live online classes taught by an instructor, and the 20 real-world, industry-based projects.
To get certified in advanced SEO, you must finish three projects and pass one simulation test with a score of at least 60%. There are no requirements to take the course, but the company suggests that anyone who wants to do so first take its SEO foundations course.
This SEO certification course is best for: Intermediate marketing professionals.
Cost: $999 for the online Bootcamp; $599 for self-paced learning.
7. Search Engine Optimization Blueprint Training
A Blueprint is a place where SEO experts and people who are just starting out in the field can get training. They've made courses that help with all aspects of running an agency, from getting new clients to doing a full SEO audit.
Depending on your needs, you can take their courses one at a time or all at once. Some of the topics are more about running the business, like bringing on new clients and hiring staff for the agency (e.g., keyword research and technical SEO).
Their website shows which courses are free and which ones cost money. This lets you try out a class before spending a lot of money on it.
The full training bundle gives you access to all of the training modules on their platform, exclusive webinars from experts in your field, and a private Slack community with other professionals in your field.
This SEO certification course is best for Marketing professionals interested in exploring or expanding their SEO services.
Cost: The full training bundle is $2,999.
What's The Best Way to Learn SEO?
The importance of taking courses and obtaining SEO certifications can be great for beginners who want to learn from SEO experts in a structured way, or for working professionals who want to update their credentials or gain new skills and best practices in a fast-paced market.
The best course and certification for you depend on what you already know and where you need to learn more. Are you just starting out and need a general course on all the basics? Or are you an experienced player who wants to get better?
If you need training in certain skills, such as keyword research, site audits, link building, on-page SEO, content marketing, and technical SEO, you should consider focusing on these skills.
Most likely, you won't get the most out of the one SEO course and certification you take. Instead, you should take a variety of SEO courses to fill in the gaps in your knowledge and help you become a more experienced SEO professional and digital marketer.
Quick Links:
Conclusion: How Important Is SEO Certification Course To Your Career
Even though SEO classes and certifications are important for your growth, they won't make you an SEO expert. They won't be the only thing that helps you grow.
True expertise comes from a mix of training or learning, experience, and, most importantly, getting great results for businesses in the real world.
Learn how to become a digital marketer or SEO specialist by taking advantage of the free online courses and free training certification exams we offer.
Also Read: