Save Time Using IFTTT AutomatedLife Recipes!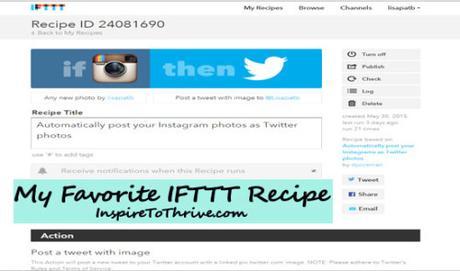 Whether you want to save time online or offline IFTTT can help you. You can use the IFTTT AutomatedLife recipes. Not only do they save you time and but in some cases even money. There are energy saving IFTTT recipes. There are even recipes to help you plan for back to school for your children.  I learned about IFTTT a while back. Susan Silver posted about IFTTT in a contributor post here. I also learned how to use the automated recipes recently. My favorite is sharing photos from Instagram right onto Twitter. I love that IFTTT #AutomatedLife recipe! Once it is set up it is so easy to use. You just have to be sure the IFTTT app is set up on your phone. (You only need to do that once).
IFTTT AutomatedLife Contest Is Now Going On
If you like contests IFTTT is now running a contest through July 23rd, 2015. You could win!  Ten winners ​will receive: IoT Bundle. It consists of (1) Nest Thermostat. (2) a Philips Hue starter kit. (3) a Withings Activité Pop. (4) IFTTT paraphernalia. The IFTTT #AutomatedLife contest requires you to share your favorite IFTTT AutomatedLife recipes via Twitter. The 10 most RT's with the hashtag #AutomatedLife wins! You can read more on this contest at the IFTTT blog.
My Favorite #AutomatedLife Recipe! Automatically post your Instagrams as Twitter photos https://t.co/lLVxSBhyv1

— Lisa (@Lisapatb) July 19, 2015
 I'd love an RT!
Here are some other Twitter peeps favorite AutomatedLife recipes:
Automate your life with @IFTTT! My fav? Mute phone when arriving at office. #AutomatedLife http://t.co/OPHhwSa7Xd pic.twitter.com/DPwJ8KwOdn — Katie Williams, M.Ed (@fiberopticnow) July 18, 2015
.@IFTTT: have my Vegas cousin put $500 on the Browns to win the Superbowl if PHX temps drop below 0. http://t.co/lwcTtHwg4I #automatedlife

— Scott Cowley (@scottcowley) July 16, 2015
Favorite part of my #AutomatedLife: tweeting at 10AM if you know where your coffee is. Now open to everyone: http://t.co/7b517veN0b — Stephen J. Weber (@francehopper) July 16, 2015
Every day, same time, get #weather forecast for the day with #Kyber + #IFTTT https://t.co/Wrbx2ZxFgW #AutomatedLife #lifehack #productivity

— Paolo Perazzo (@SiVola) July 9, 2015
My favorite #IFTTT #AutomatedLife recipe is to have Hue bulbs come on at sunset, every day. No more changing timers. https://t.co/yWjGfm495v — Matt Blank (@msbutah) July 9, 2015
My fav @IFTTT recipe sends notification when markets goes up or down #AutomatedLife Please RT! pic.twitter.com/e8F9N7mPtl

— Mario Teijeiro (@marioteijeiro) July 18, 2015
Using my ⌚︎ to turn the A/C on, with @IFTTT Do buttons and @sensibo is the ultimate #AutomatedLife https://t.co/lCkJG85b0i — Alex Wolkov ☭ (@altryne) July 18, 2015
My favorite #AutomatedLife recipe: Turn off all the lights when I arm Sleep mode on @ScoutAlarm https://t.co/XRbP71fpje (cc @LIFX)

— Chad Smith (@chadsmith) July 17, 2015
#AutomatedLife is… sharing our blog posts on twitter via @IFTTT https://t.co/5cUdd1wxAL ….. RT please

— Make-a-tronik.com (@Make_a_tronik) July 19, 2015
To save trees & time, @IFTTT forwards our faxes to our @dropbox.automatically #AutomatedLife Send Fax to Dropbox https://t.co/iy1ttWhlhr

— Teapigs Hong Kong (@teapigsHK) July 19, 2015
#AutomatedLife California rain — don't water my lawn! https://t.co/mu8Bcy53nX

— 3in1 Communications (@3in1comm) July 20, 2015
What are some of your favorite IFTTT AutomatedLife recipes? Have you created any of your own? 
Don't forget to enter to win! The contest ends Thursday, July 23, 2015. at 12:01 a.m.

Follow Me
Lisa
Lisa loves helping others to thrive online through Social Media, Blogging and SEO. What good is knowledge if you cannot share it with others?
She has 20+ years experience in marketing/advertising with 5 years experience blogging, social media and SEO. Get her new eBook Tweeting Like It's 2nd Nature Today!

Follow Me
Latest posts by Lisa
(see all)
How IFTTT AutomatedLife Can Save You Valuable Time

- July 19, 2015

Revealing Your Happy Birthday Year on Twitter Now

- July 9, 2015

20 Valuable Twitter Marketing Tips To Make You Awesome

- June 29, 2015