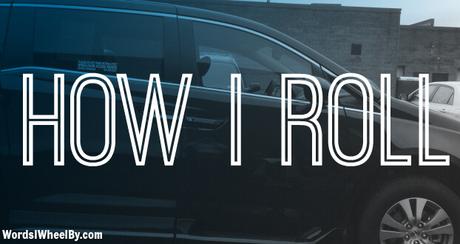 I wish I'd kept a record of all the questions, comments, and reactions I've gotten since I first began the process of learning how to drive. From total disbelief to utter fascination, people are unendingly taken by the fact that I can get from point A to point B behind the wheel of a vehicle. And I can sort of understand why. It's not like you can just go into a local car dealership and pick out a van like mine. I have an adapted 2014 Honda Odyssey, fully customized to meet my needs, and people are always curious to know more about the van and how I use it.
In parking lots, while I'm entering or exiting my van, people tend to outright stare. More often than not, the staring is followed by an inquiry as to whether I need help. While I know people are well-meaning, the offers of help are actually a bit funny to me. I mean, why would I have driven somewhere on my own only to end up alone in a parking lot if I couldn't even get myself out of the van?
Aside from the questions about the mechanics of how I drive, I'm quite frequently asked about the process I went through to learn to drive, and how I afforded the driving lessons and adapted equipment. I wish I could say it was all a breeze, but the process was long, drawn out, and a lot of work. That being said, it was all worth it.
I cannot recommend strongly enough to anyone disabled who is looking to drive to seek assistance from vocational rehabilitation (VR). My local VR office played a key role in my efforts to become a driver, funding both the lessons and the adapted equipment. I was able to receive this kind of financial support because VR programs assist disabled people in pursuing career goals, and part of my plan for developing my career was learning to drive so I could travel independently for work.
It can't be overstated how immensely helpful it was to receive the financial aid. That being said, at least in my case, other than monetary assistance, VR left me on my own. It was up to me and my family to figure out how I'd get to and from driving lessons and how to pay for the actual van.
First, I had to have an evaluation to ensure that I would be able to drive, and if so, what equipment I'd need. After that, I had to wait until a spot opened up in my driving instructor's schedule, since he is one of the only people where I live who's specially trained to teach disabled people to drive with adapted equipment. When lessons finally began, they were five days a week, an hour per day, and the school is located about an hour from my house. So, my dad had to leave work early, drive me to my lesson, wait an hour while I had my lesson, and then drive me home. It was a three hour commitment every day for nearly four months. It's not like I could drive myself to my lessons, and the school was too far for local paratransit to bring me. Ironic, isn't it, that transportation was one of the biggest challenges?
After I finally passed my road test (on the second try), it took nearly a year (yes, seriously) to actually get my van. Most people can go to a dealership and bring home a car of their choosing on the same day, but the process of purchasing my van and waiting for all of the equipment to be added felt like a lifetime. Truthfully, I barely remembered how to drive by the time I finally got behind the wheel again, but a little practice got me back to where I needed to be to get on the road safely.
Okay, by now, I'm a little worried I might have left you feeling a bit discouraged. Please don't be. I wanted to paint an honest picture of my experience so that anyone who wants to embark on the adapted driving process has a better idea of what to expect. I've heard similar anecdotes from other drivers with disabilities, but in the end, the consensus is that the process leads to gaining freedom and independence that will change your life. It certainly changed mine.
My story and ability to drive is far from unique, and yet drivers with disabilities seem to remain a phenomenon and source of curiosity. So, I decided to make a video to demonstrate how my adapted van works and to answer some FAQ, such as:
Oh, and I give you full permission to stare. 😉