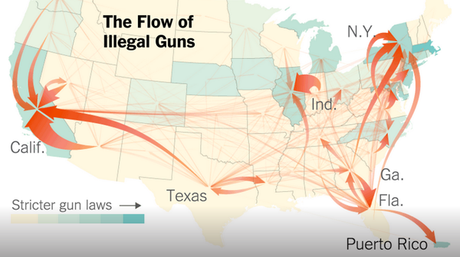 NYT
In California, some gun smugglers use FedEx. In Chicago, smugglers drive just across the state line into Indiana, buy a gun and drive back. In Orlando, Fla., smugglers have been known to fill a $500 car with guns and send it on a ship to crime rings in Puerto Rico.
In response to mass shootings in the last few years, more than 20 states, including some of the nation's biggest, have passed new laws restricting how people can buy and carry guns. Yet the effect of those laws has been significantly diluted by a thriving underground market for firearms brought from states with few restrictions.
About 50,000 guns are found to be diverted to criminals across state lines every year, federal data shows, and many more are likely to cross state lines undetected.
In New York and New Jersey, which have some of the strictest laws in the country, more than two-thirds of guns tied to criminal activity were traced to out-of-state purchases in 2014. Many were brought in via the so-called Iron Pipeline, made up of Interstate 95 and its tributary highways, from Southern states with weaker gun laws, like Virginia, Georgia and Florida.