Content Analysis and subsequent Content Optimisation is a key part of any holistic approach to SEO, or indeed website rebuild. However, recently I came to thinking about how I could explain the idea in a much simpler way, without the jargon or need for a whiteboard – let me be clear this article isn't a step by step process of how to do content analysis of your website or how to organize your website content and optimise it, instead it's a view of how content analysis is actually much simpler than you think – it's not even scary once you understand the few paragraphs below.
The first thing I need you to do, even if you've done some "content organisation" before, is put what you think you know to one side or ignore it – seriously ignore it just for now.
Second is that I want you to think of your website in a totally new way, I want you to think of your website as a task. The reality is most websites are a task, and they only have one task in life – to get new leads, to get new customers, to showcase your work etc. Think back to when you first wanted to create your site, you had a task for most of your pages… make a list of every page on your site (unless you've hundreds of products obviously) and give each page a task – what is it meant to do, whats its ONE job in life.
Why We Should Think of Webpages as Tasks
Digital Marketing, SEO, Web Design, User Experience all have roots in Human Computer Interaction – which in short is the science/art looking at how humans interact with computing devices and interfaces for all kinds of needs from medical to shopping and much more. I began my career building websites but it was my interest in HCI that really led me to a love of SEO, it was a love of the user journey and interaction that I wanted to know more about.
The reason I am telling you this is because HCI is all about tasks and objectives, its not about creating content with no end – it's not about creating a second page for a product to allow for a second color selection when HCI experiments who users would likely prefer a single page. It's about brining science and methodology to every page of your website, its about stopping creating content for creating content-sake.
Getting to Grips with Tasks Not Just Content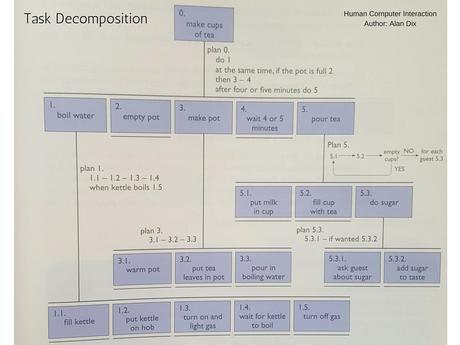 Diagram from Human Computer Interaction (3rd) by Alan Dix
We've all seen diagrams like the one above (from Human Computer Interaction by Alan Dix), but what you won't have thought – I hadn't until last week – is realised how similar this is to a website hierarchy/sitemap.
And here in is the key to why Content Organisation is about tasks as much as it as about subjects and topics.
For example, if you are a wedding photographer covering a broad region, say a Manchester Wedding Photographer, then you will want to push lead conversions for that within that section of your site – and that will be wholly separate from say if you do Commercial Photography in Manchester. Two separate parts of the website with potentially two different calls to action for different user types and use cases, not only is it good for users but its also great for SEO.
The point here is not that you need to chuck away all the work you've done but simply you need to twist how you think about your content and website. Put simply every page on your website should have a single and simple task to achieve, whether thats sign up to an email newsletter, complete a lead generation form or check out (or even click to view your portfolio piece) – a bit like the diagram above each task should lead from one to another until the end of the tasks leads to success for you and your business.
Original SEO Content by SEOAndy @ How Easy is Content Analysis & Optimisation?