Bear with me on this one.
We are all flawed individuals.  We're all sinners.  So let's get that part out of the way.  But there should still exist a means by which the measure of a man can be taken, whether or not he is someone you'd want to hang with, someone you'd want your children to look up to, someone you'd want your daughter or niece to marry.
A few of them come to mind quickly.
How does said man treat women in general and his wife/girlfriend in particular?
Is he a man of evidentiary faith?
Is he compassionate and charitable?
You may have your own list of traits that we're likely to agree help measure how much of a man men truly are.
I'm about to add another, though this one I'm sure might have its detractors.
Are you ready for this?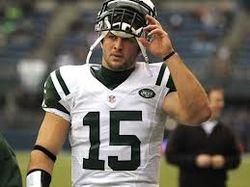 What do you think of Tim Tebow?
This past week, I was exposed to two sports writers who had never really registered even the tiniest of blips on my there-goes-a-man-of-character radar.  Not because of anything in particular that they've done or not done before but because I've never really seen or heard anything from either of them that had captured my attention.
Until these last couple of days.
Let's first deal with ESPN's Merril Hoge:
So much for the whole bearing good tidings thing. In a roundtable discussion on Monday morning'sSportsCenter, ESPN analyst Merril Hoge went on a rant about New York Jets quarterback Tim Tebow, saying that he's "as phony as a three-dollar bill" and that the New York Jets didn't realize "how bad Tim Tebow was" when they traded for him.

Fellow analyst Ron Jaworski tries to defend Tebow's handling of his yearlong situation with the Jets while insider Adam Schefter attempts to relay a conversation he had with Tebow late Sunday night regarding theESPN New York report that he asked out of the Wildcat formation for the team's game with San Diego. While both are given time to make their points, they are just lulls between Hoge's fury-laden sound bites.

"He is not going to win for the Jacksonville Jaguars. All he will do is set the franchise back further if that is a possible feat," Hoge said. "This organization is down as far as you can get. The last person they need is a guy like this now that we're starting to see his true colors."
What was it that set Merril Hoge off you might be asking?
Apparently, the same thing that set Jets beat reporter Peter Schwartz off:
With every media session involving Tim Tebow that came and went, there was something bizarre about our chats with the Jets' new backup quarterback.

He really sounded like a phony.

And now it's obvious that the first impressions of Tebow were correct.

It should not come as a surprise that reports indicate that Tebow opted out of the wildcat package for Sunday's game against the Chargers when he was told that Greg McElroy would get the start over him. Tebow's "I'll do whatever I can to help the team" pledge from the day that the Jets acquired him turned out to be nothing but utter nonsense.

Tebow is not the good teammate that we all thought he was and now it seems as if reports about him being a bad apple in the locker room are true. What does it say about someone, who has captivated the world with his religious faith, doesn't want to be a part of the game plan to help his team win?
There's only one problem Mr. Hoge and Mr. Schwartz.  One huge fly in your Tim Tebow Hate Soup.  That fly happens to be Rex Ryan:
Ryan acknowledged Monday that Tebow wasn't happy when the coach chose Greg McElroy to start for the benched Mark Sanchez, but insisted Tebow was willing to play in any role Sunday against San Diego - including the wildcat.

''He was disappointed, there's no question,'' Ryan said Monday. ''He was disappointed that he was not named the starter, but with that being said, I'm not going to get into private conversations that I have with players, but it was my decision to use Jeremy Kerley in the wildcat, without question.

''But I'll say this: I believe if Tim's number was called, he would've went in and played. I don't think there's any doubt about that.''
In other words, there was no basis for which Hoge and Schwartz unleashed their venom for Tebow.  None whatsoever.  Of course, this isn't the first time they've done so.  Hoge in particular has a history of Tebow hatred since the latter entered into the NFL.
And so I, with a firmness and resolve I'd be hardpressed to give up, am making a decree.
Merril Hoge and Peter Schwartz have no integrity, no class, no character.
I wouldn't turn my back on either of them.  I find them each to be deplorable and pity their loved ones.
The sort of hate they have for Tim Tebow is based in my view for their own hatred of religion.  It seems more than obvious to me.
Unlike either of them however, I'm open to having my mind changed.  If you have evidence that would suggest I'm full of crap, leave it in the comments but quite frankly and bluntly, I'm willing to bet this post's comment thread will remain largely empty.