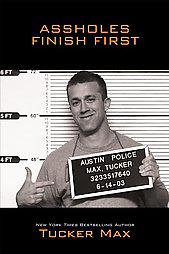 Tucker Max: King of Asshole Frat Boys
This week, USC's chapter of Kappa Sigma sent around an e-mail describing how to be an effective "cocksman," calling a woman's vagina her "pie" and her mouth/throat a "gullet." The writer of the e-mail tells his fellow brothers to send him all of their hook-ups in "Tucker Max format" (Tucker Max is a douchebag who notoriously glamorizes his womanizing and drunken antics as epic adventures) and females are "targets" who "aren't actual people like us men. Consequently, giving them a certain name or distinction is pointless."
That isn't even the worst of it. The e-mail classifies women's "pies" by race, and says "non-consent and rape are two different things," and includes a rating system to evaluate each woman's looks. (Read the whole e-mail here on Jezebel). The chapter and the Fraternity Council at the school have condemned the e-mail and sworn up and down that it is no reflection of the community as a whole. I'm sure it isn't – I have tons of friends who are frat brothers and wonderful people, who consider women as equal participants in society and not just sexual objects.
But this e-mail shows that misogynistic thought is still alive and well in Greek Life. And my question is – why? Greek Life in Universities change hands in leadership every couple of years. The participants are young academics, people with fresh ideas and new outlooks on the world. So why is this archaic way of thinking of women as objects still so prevalent in Fraternities?
Perhaps it's something to do with a group of men hanging around in general. I know that sometimes, when hanging with a group of girlfriends, we'll make a couple of jokes about how attractive a certain movie star is, how beautifully chiseled his jaw line may appear. But that can't possibly describe the whole thing. Is it pressure to be macho; some sort of mystical effect of the mass gathering of Y-Chromosomes?
It's hard to be sure. But one thing I do know is that it's up to both parties to fix this problem. Frat Brothers need to be more open-minded and willing to stand up to brothers who make sexist jokes. Women on campuses across the country need to stand up for themselves and be willing to say "that isn't funny" when jokes say that non-consent is different than rape, or that women aren't people, they're pieces of "pie," objects to be won. College and academia can be the first stop on the road to changing the world, but if we don't all work together to change the way things are, society will never move forward.
Becka also writes for her own blog, Becka Tells All.