Gabriel (Coco) Chanel was one of the most famous fashion designers around the world and her name still lives on through the Chanel brand. Her nickname Coco is rumoured to have come from the songs she sang but she confirmed that it was a shortened version of cocotte – the French word for 'kept woman'.
What is fascinating about Coco is not only her extraordinary affect on the fashion industry before and 40 years after her death but her upbringing and love life has also captivated people across the globe.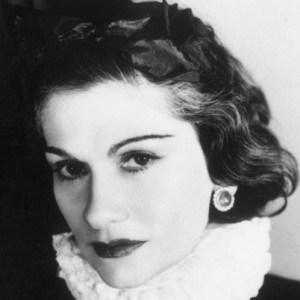 In her early life Coco was raised in an orphanage where she was taught to sew and this skill played a significant role in her entire life. Before focusing on fashion, Gabrielle had a brief career as a singer which is where she met a man who would open all the doors to all the right people.
Coco became involved with, Etienne Balsan and she lived with him as his mistress in his impressive mansion just outside of Paris and it was here where she mingled with extremely wealthy and upper class people. This was where Chanel met, Arthur 'Boy' Capel and she instantly became entrapped by his cool and eclectic charm.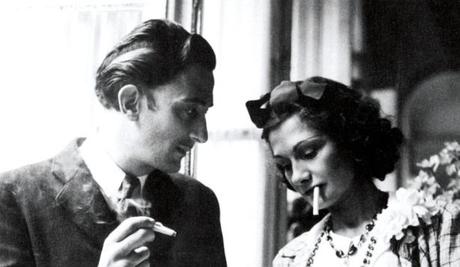 Boy & Coco
Boy was an Englishmen who was a self made wealthy man, polo player, ship-owner, politician and tycoon who is now more well known for his 9 year love affair with, Coco Chanel.
Many people don't realize the impact that Boy had on Cocos life as not only was he her lover but he was also her fashion muse and the person who financed her first ever fashion shop in Paris.
Arthur's sense of style very much inspired Cocos designs as he inspired her to put a squared masculine touch on her classic clothing styles. It was also one of Boys jerseys which Chanel re-invented and fashioned into a dress on a chilly day that changed the way women dressed forever as during this time women wore corsets which were uncomfortable.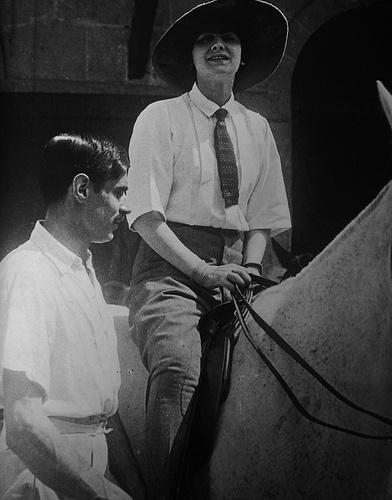 Boy & Coco
Coco stated many years after on the subject of the jersey; "My fortune is built on that old jersey that I'd put on because it was cold in Deauville", and Deauville is where she spent a lot of her affairs with Boy – as he was a married man.
Chanel was all for designing what she wanted to create rather than following trends which included tailored suits and clothing, no corsets, striped tops and black clothing and everything was based around comfort to enable women to breathe, eat and move around without being suffocated with a corset.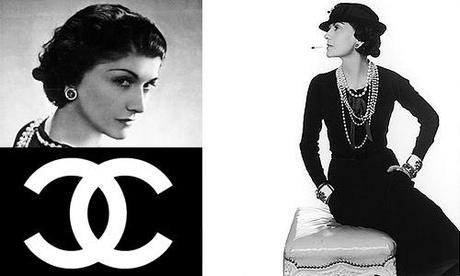 Chanel in her younger days
These weren't the only things that revolutionized fashion but Chanel created the little black dress in the 1920s which is still to this day an item of clothing in every woman's wardrobe that they go-to on a regular basis.
The LBD was inspired after Arthur's tragic death in 1919 due to a fatal car crash in his Rolls Royce which he was being chauffeured in whilst traveling to visit Coco for a Christmas rendezvous. Chanel went through her grieving period of wearing black and claimed the whole world would wear black with her which is where the LBD evolved from because at the time black was tied solely hand in hand with death.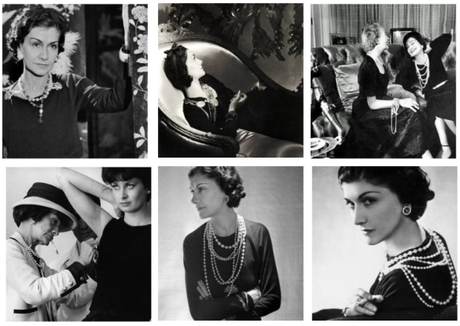 You often saw Coco wearing black & pearls!
Chanel showed the world how black clothing can be chic and how it can be worn for evening wear and due to her relationship with, Boy she has changed fashion forever and allowed it to evolve from corsets to modern day class.
One of the heart breaking factors about Cocos life is Boy once asked for her hand in marriage which she refused as she wanted to make her own money first. After his fatal death, Chanel had stated that Arthur Capel had been the love of her life and she never married anyone after his death, and it's thanks to Arthur Capels style and finance that the Chanel brand still exists today.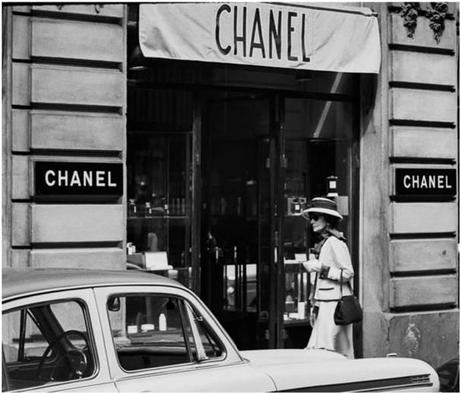 One of the Chanel stores in Paris
You can get get yourself the perfect little black dress from, Chocolate Clothing: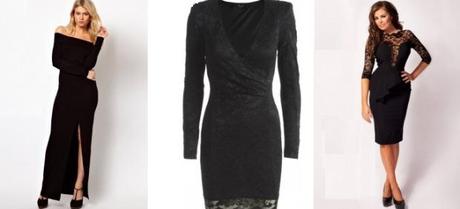 Karl Lagerfeld is the head designer and creative director for the fashion house of Chanel and he has recently chosen, Keira Knightly to play Coco herself in a short movie titled, "Once Upon A Time" which you can view here: