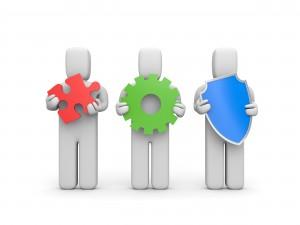 Cloud computing references abound in business and technical circles. Yet, for all its current prevalence, there is still an ongoing debate as to what cloud is and how it should be adopted by technology, risk management, compliance, security, assurance and business leaders. Adding to the difficulty is the fact that definitions have concentrated on what cloud providers deliver instead of what cloud is.  For organizations to acquire benefit from the use of cloud computing, a clear governance strategy and management plan must be created.
Cloud computing bestows a unique opportunity for organizations.  Enterprises take advantage of cloud offerings to increase the value that IT and information systems generate. Realizing value from the cloud necessitates that decisions be rendered taking account costs and risk, and with a view of cloud solutions as part of the portfolio of technology offerings in support of the organizational strategy.
CIOs Are Adopting the Cloud
CIOs are uniquely experienced to guide a cloud strategy, due to their intricate knowledge and grasp of IT. While in-depth understanding of technology is important, no less crucial is the capability to communicate the business impacts and opportunities of cloud computing to the C-suite.
To do so, a CIO should be equipped to:
Cultivate a comprehensive strategy to leverage internal, external, and hybrid clouds, and settle on a transformative approach.

Study the organization's requirements to uncover new business opportunities that will be most valuable and will produce the best ROI. It's crucial that the CIO be optimistic but careful about relocating functions to the cloud.

Think about every application in the IT portfolio as a candidate for the cloud, and predict and tackle all possible IT security concerns.

As soon as the CIO is certain that a specific function is appropriate for a cloud initiative, he or she should be able to strongly communicate business advantages to colleagues in the C-suite.

Verify that external services can be incorporated with internal capabilities.

Prepare the organization to become a smart user of cloud computing.
Regulate the cloud evolution
At present, business leaders often acquire and apply cloud services devoid of IT's commitment, and that can generate serious security risks. To prevent these risks, the CIO should administer the implementation and utilization of cloud computing.
The CIO should institute procedures that align with a risk-management approach and are adept to evolving as the cloud initiative matures. It also is important to monitor cloud services after procurement to make certain that pay-as-you-go costs remain economically beneficial.
Focus on talent-management concerns
Cloud computing can reduce the necessity for internal IT personnel with profound knowledge of technology—and that can develop into a talent-management nuisance for CIOs.
IT personnel may consider cloud computing as a threat to employment, and the CIO should be equipped to validate that the organization is dedicated to ensuring a career path for its staff. For example, as an organization's cloud implementation develops, it may educate and reorganize personnel to administer relationships with service providers and business units.
The cloud computing model also will modify how IT provides and administers services, including how IT groups interrelate with one another and their customers or clients. CIOs must foresee these transformations and restructure operating models and procedures to sustain new operating processes.

---
The Litcom Approach
Moving to the cloud can be an ideal proposition for small, medium and large sized organizations. At Litcom, we conduct a thorough assessment of your IT environment to determine how much of it can be moved to the cloud and what, if anything, is better suited to remain in-house.
Litcom has professionals who are experienced in developing and aligning business and IT strategy. We can help your business understand the benefits offered by cloud computing and help you determine where the focus should be for your first project.  Litcom professionals have real world experience integrating virtualized and cloud based solutions. Contact us today at: info@litcom.ca
Stay Connected
265 Rimrock Rd., Suite 202
Toronto, Ontario M3J 3C6
phone: 905 763 8900
fax: 905 763 8233
email: info@litcom.ca
Recent Posts
How CIOs should be thinking about the cloud
Organizations Lack Important ERP Capabilities
A (detailed) look at constructing your organization's IT roadmap
Reference Links
About Us
Services
Partners
Grow with us
Contact Us
IT Assessments
IT Assessment
Assessing the Value of IT in your Organization
How can your organization benefit from an IT assessment?
Your Complete IT Assessment Guide