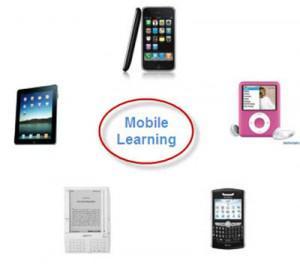 Today, we are using our iPods, Blackberries and Mp3 players in more ways than ever before. These portable, digital devices, once primarily reserved for listening to music, taking photos, and sending and receiving quick instant messages, have now evolved into learning support tools that are now considered beneficial support tools for adult learning.
A great number of online colleges and universities are now encouraging adult learners to utilize their mobile devices as valuable education tools, and in turn, they are setting up online lectures—via audio podcasts, video podcasts and using audio books. College instructors are also encouraging adult learners to use mobile devices as ways to research or browse the Internet for online resources to use in learning projects and papers.
The future trend in mobile learning has opened new doors for adult learners. Once confined to a college program due to location, class hours, or availability of courses, mobile devices have extended learning beyond school hours and geographical location. Suddenly, learners can earn a degree online, from the comfort of their own homes—while maintaining full-time employment and family care responsibilities.
Why has mobile learning become such a popular trend?
The use of mobile technologies in learning increases learner engagement as well as prepares learners for the working world (where mobile devices are used as part of most jobs). The mobile learning trend evolved due to the fact that adult learners returning to learning are already dependent on these devices on a large scale. Instead of working against this natural dependence, educational institutions are combining mobile learning into online college and adult education courses and professional training programs.
How is mobile technology supporting adult education?
IPods, Mp3 players and other mobile devices are providing learners and college instructors with convenient access to online tools designed to support adult education in the following ways:
Mobile devices cut the costs of learning – An investment in mobile devices offers the ability to make college more affordable to adult learners by:
·   Extending learning beyond the classroom—via geographic location and school day hours
·   Offers access to free online textbooks and other learning materials
 Downloadable study guides and audio books make learning resources available for anyone – Study notes and audio books can now be downloaded right to any mobile device and translated into various foreign languages. Not only that, but study notes and audio books can be provided for almost any course or subject—including education, humanities, court reporting, law, nursing, political science, science, business, marketing, and many, many more.
Downloadable learning tools save learners a ton of money and time – Compared to buying an entire textbook, learners can download only the chapter they need to do their assignment from an e-book.
Audio lectures and podcasts are available when the learner needs them – College instructors and professors now have the option of recording a class lecture anytime and posting it for download to any iPod, Zune, MP3 player, or any other handheld device for their learners to pick up from anywhere, anytime. This way, if you have a full time, day job, you can simply log on and listen when time permits in the evening or on weekends.
Improving teacher-learner communication – There is little doubt that mobile learning makes teachers more productive as well. Instructors can post office hours online and speak to struggling learners one-to-one via instant messaging if a learner has a question or if the learner is seeking an informal review of a paper or test. Mobile learning allows teachers to personalize instruction for each learner—compared to lecturing to a classroom setting full of 30 learners all at the same time.
Improving teamwork and collaboration between learners – Communication via a mobile device allows learners to collaborate beyond physical boundaries. This not only helps improve their critical thinking and problem solving skills; it also gives free form to idea-sharing so that the more reserved adult learners can feel comfortable contributing to groups.
Guest Post written by: Kathy Porter
© 2011, ©Active Consultants 2011. All rights reserved. Copying in part or in entirety only permitted by written consent

Copyright protected by Digiprove © 2011
All Rights Reserved
Original content here is published under these license terms: X 
License Type:Commercial
License Summary:You may read the original content in the context in which it is published (at this web address). You may make other uses of the content only with the written permission of the author on payment of a fee.