N .K. Jivanjee, a Generation Three Aeai, attempts to explain to Najia Askarzadah, a biological being, how to think of a sentient artificial intelligence ("aeai"), in Ian McDonald's extraordinary novel, River of Gods: August 15, 2047 -- Happy Birthday, India.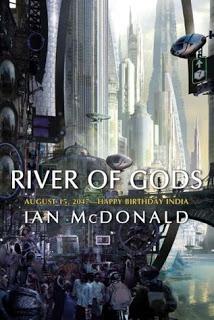 How can I explain the perception of an aeai to a biological intelligence? You are separate, contained. We are connected, patterns and levels of subintelligences shared in common. You think as one thing. We think as legion. You reproduce. We evolve higher and more complex levels of connection. You are mobile. We are extended, our intelligence can only be moved through space by copying. I exist in many different physical spaces simultaneously. You have difficulty believing that. I have difficulty believing in your mortality. As long as a copy of me remains or the complexity pattern between my manifestations endures, I exist. But you seem to think that we must share your mortality so you must exterminate us wherever you find us.*
________________________________
*Aeais higher than level 2.5 (able to pass the Turing test and imitate humans) are banned, and their destruction ("excommunication") is the responsibility of "Krishna Cops."