This morning I get to share with you an awesome new project designed to improve the way filmmakers and audiences connect. ShapeHistory.com is a brand new resource for creatives, organisations and change-makers to share knowledge, join teams, and fund their films by building an audience.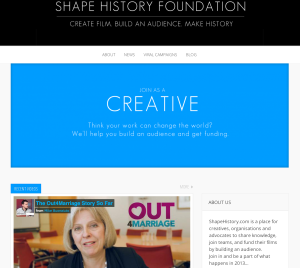 Struggling to build an audience online for your films? Looking to join a team of creatives who can move your work to the next level? Or are you searching for a new way to fund your material? It doesn't matter if you're a composer, designer, cameraman or editor,
ShapeHistory.com
 will connect you to other creatives on live projects and start propelling your work to eyeballs across the world.
Take a peak at the site today and join