Have you read the
Flat Stanley books
with your kids? Or maybe you have even done a Flat Kid project of your own, sending your Flat Kid on an adventure? Wouldn't it be cool if we could use the Flat concept to spread the word about an area in need and raise money to help that area?
That would be cool!
Now you can do exactly that with the Flat Monkey Project. Wait, how is a Flat Monkey going to help the people of Appalachia? Simple, your organization or group uses the downloadable forms to create your own Flat Monkey. Don't forget to give him a name and register him on the site. Then you send your Flat Monkey from one person to the next. Each person who receives the Flat Monkey goes to Monkey Do Project and makes a donation that helps the people of Appalachia.
The Flat Monkey Project is a fun way to get kids involved and teach them about helping others. Read the Flat Monkey Story to find out how Monkey got flattened and share information about Appalachia to understand why help is needed in this area.
What are you waiting for? Head over to Start a Flat Monkey to get your monkey going. Once you send your monkey out in to the world you can even track him on the Flat Monkey Map.
The monkeys thank you for your generosity!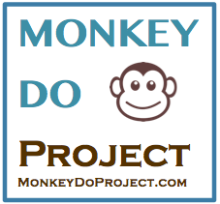 Note:
All opinions presented in book and product reviews are my own. Opinions presented in posts authored by others reflect the view of the author only and not necessarily my view or opinion. If a product was given to me for review, the source of that product is noted in the post. Amazon and Book Depository links are affiliate links and I do earn a small amount for each purchase. Other affiliate links will be noted in the post.